7 Reasons To Live In Margaritaville, Daytona
Posted by Asterisk Marketing on Monday, August 29, 2022 at 10:16 AM
By Asterisk Marketing / August 29, 2022
Comment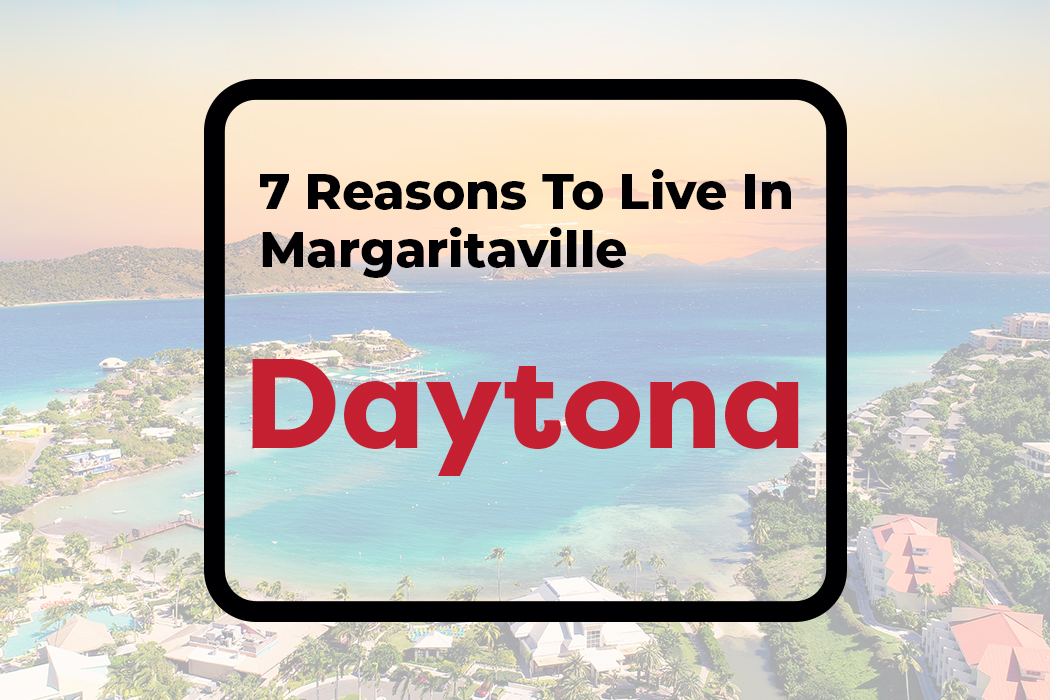 Why live in Margaritaville, Daytona? Why not? Sunny days and breezy nights, with so many activities you'll never have a boring day. This ideal adult home community has it all. With amenities only a golf cart ride away, grab a margarita and spend your days kicking back.
Jimmy Buffet is famous for his music, lifestyle, and restaurants. He is well loved in all age groups, but his largest group of fans are part of the boomer generation. This is what makes his retirement community, created by a partnership of Margaritaville Holdings LLC and Minto Communities, so incredible. The first Margaritaville Retirement Community started right here in Daytona, Florida. There are two others, one located in Hilton Head, South Carolina, one in Watersound, Florida, and soon to be more in Texas.
You don't have to be a Parrothead, which is what the die-hard Jimmy Buffet fans call themselves, to live here. However, If you are looking for a good retirement community for active adults, filled with top-notch amenities, blended drinks, and absolute fun, this is the place to be.

The first retirement community was announced in 2017 and has shown major success. While his empire is widely known and a global success, you can really feel the paradise here in Daytona, Florida.
Housing
Filled with a range of "maintenance-free" villas and cottages, you are bound to find just the right home for you. Tastefully designed and made to make life easy and breezy, homes in Margaritaville, Daytona has a variety of styles for you to choose from. There are thousands of homes in the community, and several different layouts to pick from. While the majority are two to three bedrooms, you can find something to fit your needs. You can find three-car garages for your golf carts, screened-in porches to enjoy the sunset, and easy-to-navigate one-story buildings.
The Minto homes surround and spread out from the town center, making it a short but enjoyable walk or ride to Margaritaville's famous bar and restaurant Latitude's Bar and Chill, or the Paradise Pool. Neighbors are close by and friendly, a great group of folks with similar values that are willing and able to socialize.

It's a highly desired living locale, for obvious reasons. Life really can't get better than this! Living in paradise is the goal here, and it's achieved by everyone who steps foot in the place.
World Class Amenities
There's always something to do in Margaritaville. Walk the private beach located just a free shuttle ride away, head to the pool for a day of relaxation, or jump into one of the many workout classes and gyms available. Head the to art and crafts room to do something you've always wanted to try, take the time to perfect your skills in the Woodshop, or trick out your golf cart in the Hangar.
Enjoy the theatre? Head on down to The Last Mango Theater for shows, performances, and dances. You'll be able to see comedians, plays, bands, and movies available year round.

Jimmy Buffet's spirit really shines in the town center at Latitude Bar and Chill restaurant. With classic rock wafting through the air with the sea breeze, perfect drinks always in your hand, and the other tenants to make you enjoy your time, even more, it's really not a question of if you should move here, it's when. Kick back or dance all night, and live your life the way you truly want to. You've worked your whole life to get here, so why not let yourself live in Buffet's world?

Paradise Pool
Swimming is the key to happiness, and no good retirement community would exist without one. Margaritaville is no exception and rightfully calls theirs the Paradise Pool. With tiki huts, lawn games, cabanas, and a poolside bar life really doesn't get better. So let the clock move slowly, and let the music wash over you as you cool your feet in the pool.
Be Healthy, Be Happy
Halifax Health is the Official Healthcare Partner for this 55 and over retirement community and has helped all of the Margaritaville, Daytona residents. To live a good life and truly enjoy all that life has to offer, having a healthy mind and body is imperative. So don't worry about your health, just kick back and listen to the music, they've got you covered.
Music
Music is at the heart of everything Jimmy Buffet believes in, and that shines through loud and clear here at this inspired community home. Bands and dances happen regularly, and the town center always has music playing. There's even a bandshell right in the center of the town square, where live music plays regularly! It's not all Jimmy Buffet though, you can find your style of music regardless of what you like. Spin classes, aerobatic classes, and the gym all have your blood pumping with the sound of happiness. Sit under the cabana and listen to the classics while you watch the ocean waves.
Pickleball
Grab a racket and get on the court, because Margaritaville, Daytona, is all about being active. Pickleball is a favorite in these parts, a game similar in play and appearance to tennis, but with a much smaller court. Play with your partner or grab another couple and duke out who brings what to the potluck that night. Either way, you'll be sure to have a blast.

Along with pickleball, there is easy access to golf, tennis, swimming, surfing, and boating. Daytona in general has lots to offer for anyone considering this place home. While the community isn't located right on the beach, they offer free shuttles to and from making it no sweat to head to the waters. So, grab your flip-flops and make your way to the perfect forever getaway.
Furry Friends
Have pets? Don't fret! You can find everything you need right in the town center. For pampering, we've got Barkaritaville, a pet spa, and a grooming site. Food, toys, and other necessities are all available a hop skip, and a jump from your living room.

Margaritaville is known for its dog-friendly attitude, making you and your pups right at home. There are nature trails to walk with them, plenty of wildlife to perk their interests, and Margaritaville's very own dog park for your best friend to make friends of their own.

Changes in Attitude
It's no surprise that Jimmy Buffet loved his ice-cold, blended fruity drinks, and here in Margaritaville, we don't shy away from them either. With a variety of margaritas available, as well as Pina Coladas, daiquiris, hurricanes, or whatever else you desire, your attitude will be just fine.

Changes in Attitude is the name of the bar, but there's also Latitude Bar and Chill for incredible cheeseburgers, drinks, music, and more.

Menus range from the Buffet favorite, cheeseburgers, to the catch of the day, delicious salads, tacos, nachos, fajitas, and more. They regularly have specials available depending on what's in the season as well. All the food is chef-inspired, and it's clear in the taste. Island-based foods are everyone's favorites, and your favorite is awaiting you here in Margaritaville.

The amazing drinks will have you coming back for more if food isn't your style. The restaurant teamed up with Jimmy Buffet's well-known restaurant chain and created an over-the-top cocktail menu, begging to be sipped on in the warm breeze.
Daytona
Want to take a break from living in bliss in the community? Daytona itself has a large selection of interesting things to do to help your days pass in complete fun. Of course, there's the Daytona 500 NASCAR race every February, definitely worth a trip in and of itself, but living in the area makes it easy to access.

The Daytona Boardwalk has loads of attractions, from the large Ferris wheel to arcades, roller coasters, free concerts, and huge amounts of restaurants, bars, and excitement. It's a great place to take the grandkids for a day or weekend.

On one of the rainy days, there are also several museums. One specifically worth noting is the MOAS, the Museum of Arts and Sciences, which boasts over 30,000 pieces. It includes Cuban art, Chinese art, exhibits showing Florida's origins, and many more.

Lighthouse Point Park showcases its natural beauty and lots of wildlife and has several nature walks. The Ponce De Leon Lighthouse and Museum has a lighthouse standing 175 feet tall and is the largest in Florida, and one of the largest in America.

Daytona also has the Marine Science Center, which helps rehabilitate local wild sea life. It also has many interactive exhibits, ideal for learning more about your local wildlife and the importance of the ocean's health.

There's many things to do in Daytona, an undisputedly exciting and captivating place to live. Be sure to invite family down to visit often, to show off your new home and everything it has to offer.

The Residents
The world-class amenities, beautiful temperate climate, and Daytona itself have nothing on the people who make Margaritaville so lovely. The premise of the entire retirement community is relaxation and escaping from the drudgery of day-to-day life, and that's clear in the folks who have made this paradise home.

It's an unwritten rule not to talk about politics in the community, and the majority abide by this rule. The rule was created because, simply, no one who lives there wants to live their days worried and stressed about anything. It's hard to have a bad attitude when you live in a gorgeous climate 365 days a year, and when your most important worry is what drink you should sip on while lounging by the pool.

The people here are happy, there's no doubt about it. The people that Margaritaville attracts know what they want, and they want the ideal island lifestyle. Jimmy Buffet was a sailor on a quest for the perfect lifestyle, and as soon as he had the chance he made one himself.

This is an active community, not one person here wants to watch life pass them by, so they take every day they live to be as active in the world as they can. Going to shows, joining fitness classes, walking dogs, and having parties, these people really know how to enjoy their time. It's easy to become lifelong friends with your neighbors, it's even encouraged! People move here for the community, not just the amenities. Like any place, it's the people who truly make this place great.
Jimmy Buffet
Jimmy Buffet fans have been called more than just fans, it's an actual movement. People from far and wide have listened to his songs, read his works, and eaten at his restaurants, and everyone wanted more. That's why they opened this retirement home, so you can truly live the dream.

Living life like Buffet may have been a far-fetched dream for most, but now it's more accessible than ever before. With affordable homes open and room available, more places on the way, and the amenities that will make you feel like a millionaire, there's no reason not to join in on the movement and live in a Jimmy Buffet song, something once only thought of as a dream.

Jimmy Buffet has inspired many people and makes a point to actually show up at his homes from time to time. So, if you've ever wanted to actually meet this legend of a man, this is your place.

It's not just his songs that inspire, it's his very essence. His life is one only ever dreamed about but now is your chance.
The Weather
There's no island paradise without perfect weather. Florida's weather is well known for its year-round warmth, and humid sea breezes that help your skin glow with health and make your joints feel ten years younger. The climate is ideal for any aches and pains you've gained along the way, making it that much easier to enjoy your new, revitalized life.
If you haven't lived in a warm climate before, now is your chance. Most people who make the switch would never go back to the harsh winter climates that cover so much of America. The warmth keeps you active, improves your mood, and helps your health.



Overall, you can see that Margaritaville is the place to live for those 55 and better. It's got many attractions, amazing food, and great amenities. The pools, indoor and out, are beautifully crafted to make getting in and out easy. Drinks abound, with multiple places to grab your favorite fruity blend or beer.

The people who have already made the move would do it again if given the chance. In fact, they'd have moved here sooner if they could. There's something about the energy of the place that makes you happier and more excited about life. No one sits around here wasting their life away, you've got to make the most of your time and this is the way to do it.

A Jimmy Buffet himself says, "Take it all in, it's as big as it seems. Count all your blessings, and remember your dreams."

What are your dreams? How do you want to live your life? Only you can answer that question, but if you wanted to know if Margaritaville is really as great as people have made it out to be, it is.

It really is as big as it seems. Because of Jimmy Buffet, his songs, and his dreams, that ideal lifestyle is now available to you. You don't have to be a millionaire to live here, you just have to want to live by the ocean, sipping away all your troubles.

No one wants to grow older and lose their vitality. So many retirement homes are a pretty, but simple sort of life. Margaritaville is the place where you can actually make your dreams a reality.

If you've wanted the time to enjoy your retirement, and get to all those hobbies you've always put on the back burner, this is it. With plenty of spaces for arts and crafts, woodworking hobbies, and working on your golf cart, you will finally be able to do what it is you want to do.

Want to spend your days drinking by the pool? Margaritaville in Daytona has you covered. If you're a foodie you'll have plenty of space to invite your friends over for your hottest take on the latest food trends.

There's genuinely no happier place on earth you can call your home. What are you waiting for? Grab your flip-flops and your bathing suit, and if you're still on the fence, though that would be hard to imagine, you can test out the lifestyle and come for a visit to see if it fits with you. Meet the locals, check out one of the several model homes available for show, and sit down for a slamming cheeseburger. Then, when you've realized this really is a slice of heaven on earth, make the move!

"I'd rather die living, than live when I'm dead." This another quote from the great Jimmy Buffet, and it captures the spirit of Margaritaville more than anything else. The people here are here because they want to live the best life and experience everything else life has to offer.

So, take a floaty with you, and make the best of life here in Margaritaville, Daytona Florida, where life isn't something you live out, but live up. Don't forget, it's always five o'clock somewhere!