9 Reasons To Live In South Daytona, Florida
Posted by Asterisk Marketing on Tuesday, September 27, 2022 at 2:13 PM
By Asterisk Marketing / September 27, 2022
Comment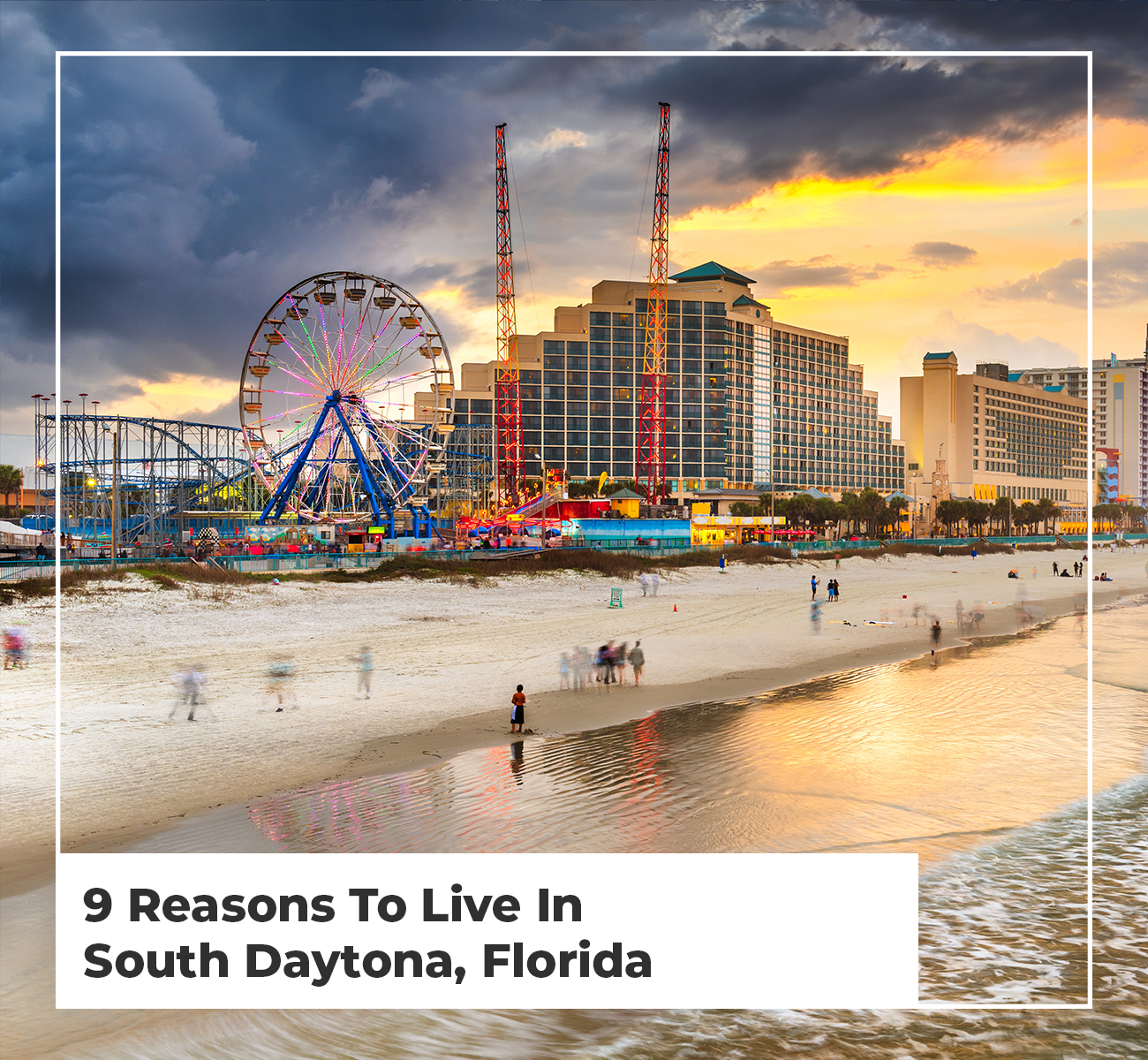 South Daytona has started to become one of the best places in Florida to consider if you are looking for a new home. The home prices are fantastic, and there are so many fun features that make this city great. If you have ever thought about making a move, check out this list to see the X reasons to live in South Daytona, Florida.
The Incredible Location
South Dayton is situated along the Halifax river, which means you get some fantastic waterfront views from many of the homes in the city. Daytona Beach proper is just 9 minutes away from this delightful area, and many people love living here to be so close to the nearby beaches and crisp waves.
South Dayton is just an hour away from nearby Orlando, Florida, which is full of fun and exciting activities for the family, including the famous Walt Disney World Resort. Many people who love the big mouse have actually started moving closer to the parks, or they can take advantage of their annual tickets, which have made small towns like South Daytona very popular.
The Excellent Home Prices
When you think of the warmer states, you assume that the home prices will be off the charts because they are so popular. Many homes in warmer climates get snatched up by snowbirds who are looking to retire, and this drives home prices way up, especially in the summer months. Lucky for you South Dayton has a home price that is actually well below the national average. There are currently many homes available on the market in various price ranges, so you can find one that suits your needs.
The Low Cost of Living
The cost of living has become very important to people in the last few years, and it's challenging to save for the future if you are spending too much in the present. If you want to live somewhere that won't break the bank, then South Daytona might be an excellent choice for you.
The cost of living index uses the number 100 to represent the average price of things in the country. Anything that is higher means the cost of living will be more, but if it is under 100, then it will be less expensive to live there. The cost of living in South Daytona is 89.3, which means it is about 11% cheaper than the rest of the country for everyday items and day-to-day expenses, which makes it much easier for those who are looking to save some money.
The Amazing Activities
Daytona Beach is known all over the country for its sand and surf, but there are so many other great activities scattered all over the Southern Daytona area. The town is full of amazing parks where you can enjoy some time in the sun and get some fresh air. Let's take a look at a few of them so you can get an idea of how great they are.
Riverwalk Park: This park is located right along the Halifax river, and it offers up boating and fishing for residents to enjoy. Spend the day out on the canoe or kayak or launch your own boat at their boat launch so you can enjoy your day catching a few fish for dinner.
Reed Canal Park: This incredible 35-acre nature sanctuary is full of great things to see and do. It has an 18-hole disc golf course, a large lake for nature watching, pavilions, and a playground. The park also has a fishing pier and a multi-purpose field which is a great place to take the kids to burn off some energy.
Park of Honor: This park has a special meaning for those in the city, and it is made specifically for those who find traditional parks overwhelming. The park was designed for people with physical and mental disabilities to be a sanctuary away from the city, and it features a small pond with a fountain and plenty of flowers to draw in the local butterflies.
The Local Art and Culture
Art and culture have become essential to people who are looking for a well-rounded city. Let's talk about a few of the great educational attractions in the area.
There are local museums to visit, like the Museum of Arts and Sciences on South Nova road. The museum features many different exhibits from different cultures, and it also has a children's area where your kids can play while they learn.
If you are looking for a place to learn a bit more about the local history, then check out the Ponce De Leon Lighthouse and Museum. This 180-foot-high lighthouse is the tallest in the state and at the base is a museum that teaches you about the local nautical-related history.
The Ormond Beach Environmental Discovery center shows you what the area used to look like before the modern developers stepped in. It is one of the best places to learn about local wildlife and nature. There are plenty of great exhibits, and it's free to the public on Tuesday-Saturday.
The Highly Rated Schools
South Daytona, Florida is full of excellent schools for the students in your family. Let's have a look at the schools that serve the area.
South Dayton Elementary School has close to 650 students in grades PK-5 and a student-to-teacher ratio of 12 to 1. Former students enjoyed the friendly atmosphere and helpful teachers.
Campbell Middle School serves the students of South Daytona, and it has a student-to-teacher ratio of 18 to 1. The school educates about 750 students in grades 6 through 8.
Atlantic High School is one of the highest-rated schools in the area. It serves roughly 1,200 students in grades 9-12, and it has an 85% graduation rate along with a student-to-teacher ratio of 18 to 1. Former students from the school enjoyed the unique class options and the excellent diversity.
If you prefer a private school for your child, then there are a few great options in the area that are faith-based. This is ideal for those who are looking for smaller class sizes and tailored education.
The Many Job Opportunities
South Daytona has become a great place to check out if you are looking for new employment. They have a growing economy that gets a boost every year in the summer months with the influx of tourists. They have a low unemployment rate of 5%, and the job market has increased by 2% over the last year.
South Daytona has home prices that just can't be beaten, and they are significantly lower than other major cities in the state. Many of the larger cities nearby are also full of great jobs, and new companies are opening up every day. If you are thinking about living in a smaller city and making the short drive to work in one of the larger towns, check out some of the great South Daytona homes for sale.
So Much To See and Do
With South Daytona being so close to Daytona, there are plenty of great attractions you can visit. It's great to know that there are some fun and exciting things to do in your city, and it's nice to have options for rainy days. Let's go over a few of the best ones in the city.
Back Alley Lanes VR-Cade
For a great time bowling a few rounds or playing in a VR universe, head over to Back Alley Lanes. This unique place mixes traditional bowling with an incredible VR room called the Omni Arena that allows you to immerse yourself in a virtual video game. They also have a fun arcade that offers you tickets for redeemable prizes and plenty of great food options so you can have a great time with friends or family.
Daytona Ice Arena
Check out the Daytona Ice Arena for any hockey or figure skating fans craving some time on the ice. They offer public skating, learn-to-skate classes, and travel hockey with the Swamp Rabbits. This is a fun place to go if you want to cool off from those warm sun rays or if you want a fun place to throw a birthday party.
Daytona Escape Room Experience
Escape rooms have become a fun way to spend some time with our friends, family, or even co-workers. Work together to solve the clues and figure your way out of one of their six incredible rooms. Escape from a cursed island, Santa's workshop, or even an old western saloon at this amazing experience that will give you memories that last a lifetime.
There are so many fantastic reasons you should consider moving to South Daytona. It has everything you could ever need and more, plus the home prices are incredible. Have a look online at some of the beautiful homes available in South Daytona today to see which one suits you.