8 Best Condo Buildings To Live in Daytona Beach Shores, FL
Posted by Wyse Home Team Realty on Tuesday, October 25, 2022 at 7:15:22 AM
By Wyse Home Team Realty / October 25, 2022
Comment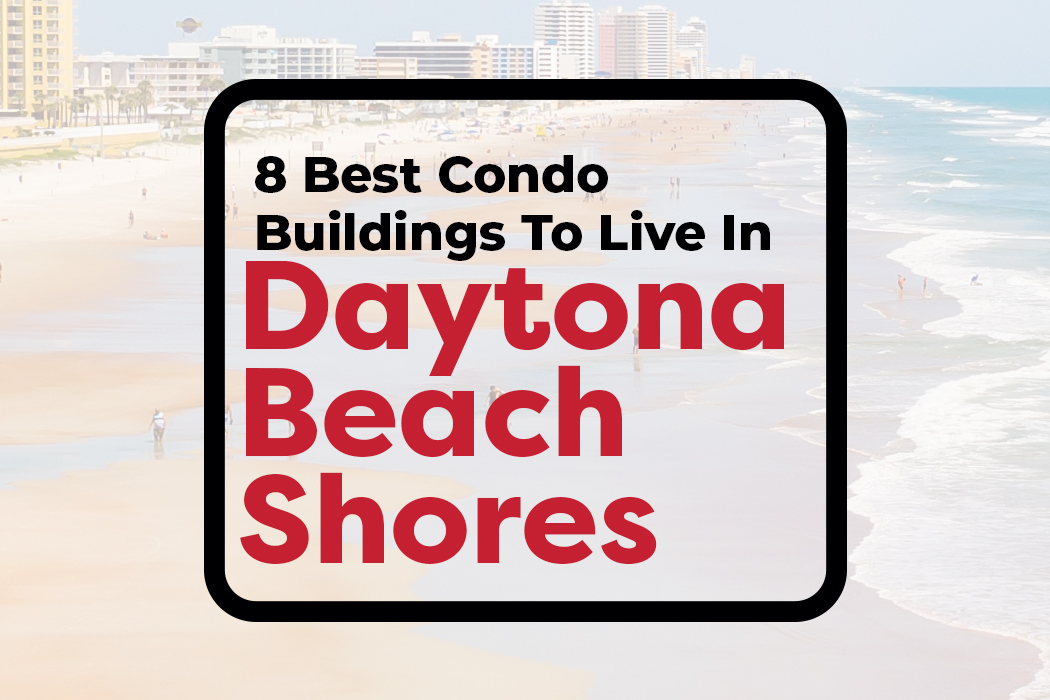 Daytona Beach Shores is a fantastic town with so much going for it, including its fabulous condos. These condos have some of the best views you can imagine, and many of them are located right near Daytona Beaches' incredible shoreline, so you can be steps away from the water. If you have ever thought about living oceanside, have a look at this list to see some of the best condo buildings in Daytona Beach Shores, Florida.
View a Full List of Condo Buildings in Daytona Beach Shores Here >>>
Oceans Grand Condominium
This fantastic condo building was built in 2006, and it is home to 190 units across 21-stories. The beach is just a short drive away, however, you won't miss out on incredible views of the water from almost every floor. The Oceans Grand has some of the best amenities for its residents, and it's easy to see why so many people love their condos.
Residents can enjoy a private 13-hole golf course for Oceans Grand residents along with the use of 3 tennis courts, so it's a perfect place to consider if you have some sports lovers in your life. Residents can also use the built state-of-the-art fitness club that is full of high-end equipment or relax in the game room and enjoy a game of pool with some friends. Oceans Grand is a great choice for so many reasons, and it's an excellent building to consider if you are looking for some great amenities.
Club Wyndham Ocean Walk
If you are looking for a well-established place to buy your summertime condo, then you need to check out the fabulous condos from Club Wyndham. This is one of the most prominent buildings in the downtown area, and it's full of excellent extras that make it one of the best choices. The units are gorgeous, and each one includes a private balcony where you can watch the amazing sunsets across the water.
Their outdoor pool area contains three pools, including one for the little kiddos, so you don't have to leave the building to get your swim on. Some of the other great amenities at Club Wyndham include a mini golf course, a games room, and a fitness center. The location is also fantastic for anyone who wants to be close to all of the great shopping and dining of downtown Daytona Beach.
The Aruba Condo
Another fantastic building that just steps away from the sparkling water is the excellent Aruba Condo. They have 60 oceanfronts and 24 ocean view units, so you will never be far from the sounds of the beautiful ocean. The buildings have three and four-bedroom condos, and each one is outfitted with your own private balcony. This is a fantastic choice for anyone who wants to be nice and close to the beautiful waves.
The building has a heated oceanfront pool for residents who want to enjoy the water a little closer to home. They also offer residents access to their incredible fitness room, the features high-end equipment so you can stay fit. Many of the residents love the beautiful condos, and they enjoy the high-end upgrades the building has received to its units over the last few years. Aruba Condo is the perfect choice for anyone who yearns to be close to the ocean.

The Shores
Condos can sometimes feel cramped and small depending on the layout, but The Shore offers you spacious condos at a great price. The units are excellent, and they look less like a dorm room and more like a large apartment, so you can enjoy making the space your own. Their building was built in 1981, and it has received plenty of amazing upgrades over the years to keep it modern and fresh.
The Shores has plenty of extra features that make it a fantastic choice to live in, and residents love to take advantage of their long list of amenities. The building has a swimming pool, a sauna, a fitness center, a tennis court, a basketball court, a card room, a library, and a club room for its residents. The views from this building are amazing, and the heated pool is situated right next to the water, so you have plenty of options if you are looking to enjoy a nice relaxing swim.
Oceans Three
This delightful building is home to plenty of condos that offer views of both sides of the water. Oceans Three has some incredible units that have been updated with modern features like tile flooring, new cabinets and sliding glass doors that give you access to your private balcony. The building is in an excellent location for anyone who wants to be close to Daytona Beach and Port Orange.
Some of the best features for residents of Oceans Three include a large pool with a deck, community room, fitness room, and underground parking. Many of the units are over 1000 sq ft with two bedrooms and two bathrooms, so you have plenty of space. Many people have been looking for homes for sale on Dayton Beach shores, but they chose one of their great low-maintenance condos instead. Ocean Three is an excellent choice if you are looking for some of the best views in the area.

The Pendleton
The Pendleton has undergone quite a few upgrades in the last few years to make sure it stays one of the top condo buildings in Daytona Beach. The building was built in 1963, and since then, it has been a popular place for Daytona Beach residents who are looking for a boater-friendly building. Many people love The Pendleton due to the fantastic boat parking they can get by utilizing the building's private dock.
The private dock isn't the only thing that makes this building special. It is full of other amenities for the residents, which makes it a popular place to go. The building has a pool, a club room, and a grill area available so you can enjoy a great time outdoors. This six-story building has fantastic views, and it's one of the best places to consider if you are looking to be close to your boat or kayak.
Towers Ten
Located right on the water is Towers Ten which has become one of the best choices for anyone who wants to live like they're on vacation every day. Towers Ten was built in 2001, and the building has 114 units in 2-4 bedroom floorplans. It's another beautiful building that is located right next to the sandy shores of Daytona beach, and it's also situated beside the main road out of the area, which makes it perfect for anyone who is looking to commute out of the city for work.
Towers Ten has plenty of fantastic features that are an added bonus for those who become residents. It has a heated oceanfront pool, a beachfront hot tub, a fire pit, a fitness center, and an oceanfront club room with a bar/kitchen, which are perfect for hosting small gatherings. If you are into entertaining guests, this is a great choice for your new condo.

Aliki Tower
If you are looking for a luxury condo that has enough space to make you feel like you're in a single-story home, then Aliki Tower is the best choice. The building consists of 25 floors (floors 1-23 are one-floor units while floors 24 and 25 are the Penthouse unit), and each floor has a wraparound glass balcony and a private elevator foyer. This is the only building in the area that features full-floor condos, so you have plenty of space to stretch out and relax.
Aliki Tower is the perfect building for those who want the space of a single-family home will all of the convenience of a condo unit. The building is also a fantastic place for those who love to entertain, and they have some great extras that make it appealing for their residents. Their gorgeous pool is located right beside two open-air grills and a great seating area, so you have plenty of places to host some friends. It also features an off-leash dog park and newly renovated units. The building received plenty of upgrades between 2015 and 2018, and residents love the new modern look that the interior has received.
Daytona Beach has become one of the premier destinations in the country to buy a new condo, and new buildings are being built all the time. There is no shortage of amazing buildings with incredible amenities, so you have plenty of different places to choose from if you are thinking about living on Daytona Beach shores. Have a look at some of these incredible condo buildings so you can figure out for yourself which one suits your the best.