Buying A Condo In 2022: The Definitive Guide [10 Tips!]
Posted by Asterisk Marketing on Tuesday, July 26, 2022 at 1:49 PM
By Asterisk Marketing / July 26, 2022
Comment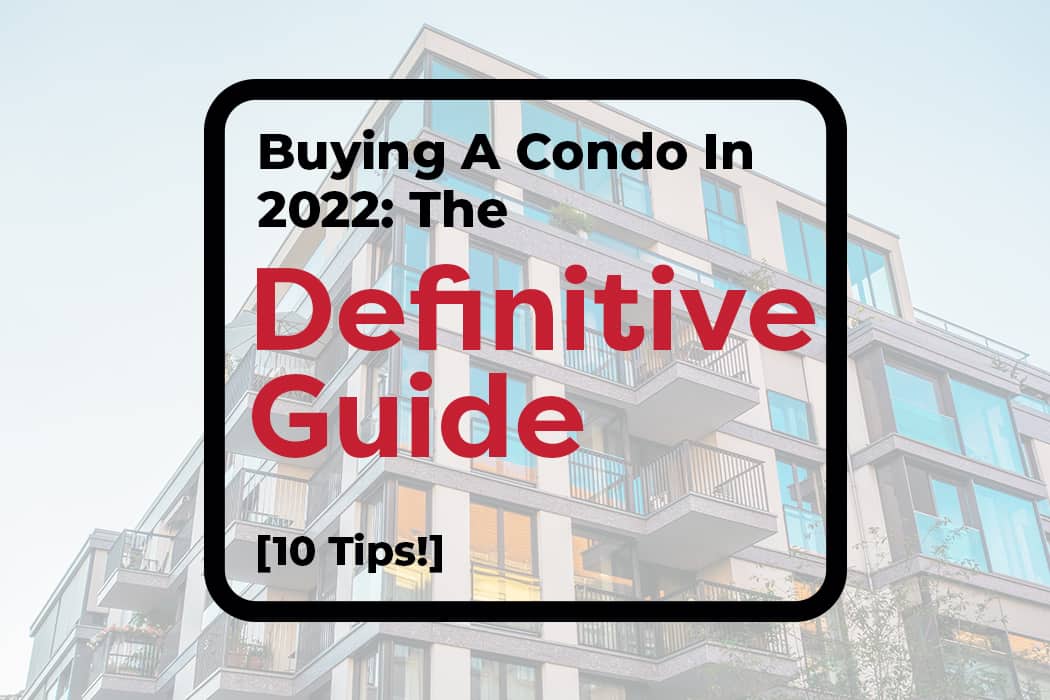 The housing market is constantly changing, and that means that the process of buying a condo has had to change as well. If you're considering purchasing a condo in 2022, there are a few things you need to know in order to make sure that you're getting the best deal possible on the condo that's just right for you.
In this definitive guide, we'll give you ten tips on how to buy a condo in 2022 so that you can be prepared for whatever the market throws your way.
To summarize our "Buying A Condo in 2022: The Definitive Guide [10 Tips]", here are the top 10 tips:
1. Condo vs house
2. Lifestyle
3. Know your budget and get pre-approved
4. Location & amenities
5. Find a realtor specializing in condo sales/purchases
6. Research property management
7. Association fees & special assessments
8. Condo regulations
9. Inspection
10. Patience
1. Condo vs House
First, let's consider what the difference is between buying a condo and buying a home. Essentially, it really boils down to three main things: ownership, maintenance, and rules.
When you buy a condo, you're only buying the unit itself - the land it stands on is owned jointly by all the condo owners in the building. What this means is that although you are the sole owner of your unit - the actual place of residence, the building, shared access areas and property are considered shared ownership by you and every other person who has purchased a condo unit.
Who takes care of the building and property then? The property and building(s) are all taken care of or managed by condo associations and property managers. Note that there are monthly condo fees required for this worry-free, maintenance-free convenience. We will cover those fees a bit further into the article.
Another key difference is that condos usually have more rules and regulations than homes. For instance, many associations have strict guidelines about noise levels, paint colors, and pet ownership.
If you're interested in saving money and enjoying maintenance-free living, then purchasing a condo could be the right choice for you. However, if you're looking for a place with more freedom and flexibility, then perhaps buying a home is the better option for you.

2. Lifestyle
There's more to buying a condominium than just finding a place to call home. Buying a condo means that you're also choosing a lifestyle.
Do you want to be in the heart of the action, with easy access to nightlife and restaurants? Or would you prefer a quieter lifestyle, with quick access to nature trails and parks? Perhaps you're looking for something in between these two options.
Regardless of your preferences, it's important to consider your lifestyle when buying a condominium. After all, you'll be spending a lot of time in your new home, and you want to be sure that it fits your lifestyle. You certainly don't want to find yourself feeling restless and unhappy in your new home. And we certainly wouldn't want you having any regrets about your condo purchase!
It's really quite necessary to take some time to think about what's important to you in a lifestyle before you start shopping for your condo. That way, you can be sure to find the perfect place to call home that compliments your lifestyle with no disappointments or regrets.
3. Know Your Budget & Get Pre-Approved
Before you start shopping for your dream condo, it's important to know how much you can realistically afford to spend. After all, with monthly mortgage payments, common charges, and any associated taxes, owning a condo can get expensive. So how do you figure out what you can afford?
Start by looking at your overall budget. How much do you have available each month for housing expenses? Once you have that number, subtract any other debts you're carrying (such as credit card debt or personal loans) from that total. What's left is what you can realistically afford to spend on your mortgage payment. Keep in mind, however, that this is just a starting point.
There are other costs associated with owning a condo that you'll need to factor into your budget, such as insurance, utilities, and repairs/maintenance.
Remember to set aside some money each month for incidentals like furniture or decorations. You will also want or need some spending money for daily living expenses such as groceries, basic necessities, and entertainment. By taking all of these factors into account, you'll be sure to find a condo that fits both your needs and your budget.
Now that you are aware of your budget the next step is getting pre-approved. You'll need to get pre-approved for a condo loan before you even start shopping. Pre-approval means that a lender has looked at your financial history and approved you for a loan/mortgage up to a certain amount.
This gives you a clear idea of how much you can afford to spend on your condominium, and it also makes the actual purchase process go more smoothly.
In fact, most condominium associations require that buyers be pre-approved for their mortgage before they can even make an offer on a unit. So getting pre-approval is an essential first step in the condo-buying process.

4. Location & Amenities
Location is key when buying a condominium, as it can affect both the value of the unit and the quality of life of the residents. For example, a condo located in a bustling downtown area may be more expensive than one in a more suburban area, but it will also offer greater access to conveniences like restaurants, shopping, public transportation and maybe even work.
Once you've narrowed down your search to a few preferred locations, it's time to start considering amenities. Do you want a swimming pool? A fitness center? A rooftop deck? Or maybe you're looking for something more unique, like a condo with on-site dog-walking services or 24-hour concierge services.
Some of these amenities may mean a higher price tag but if you take into consideration their onsite convenience and no additional off-site memberships you could be actually saving money with such added features.
When considering where to buy a condominium, it is important to weigh both the location and the amenities available in order to find the best fit for your needs, budget, and lifestyle.
5. Find A Realtor Specializing In Condo Sales / Purchases
Once you've decided you are going to buy a condominium, it's important to find a real estate agent who specializes in condo sales. While any real estate agent can technically help you purchase a condo, an agent with expertise in this area will have more applicable knowledge and experience to guide you through the process and help you avoid any potential pitfalls.
The process of buying a condo is different from buying a single-family home, and there are a number of considerations that need to be taken into account. For example, condos are often governed by their own set of rules and regulations, known as condo documents or declarations. An experienced real estate agent will be familiar with these documents and can advise you on what to look for.
In addition, an agent who specializes in condo sales will likely have a network of professionals - such as lenders, home inspectors, and closing attorneys - who can help make the buying process go a lot more smoothly. Who doesn't want a team of experts readily available with such a big investment!
Finally, an experienced agent will know how to negotiate with sellers, so you can get the best possible price on your new condominium.

6. Research Property Management Company
Condominium ownership can be a great way to enjoy all the benefits of homeownership without all the hassle of upkeep and maintenance. But before you sign on the dotted line, it's important to do your homework on the property management company that will be responsible for looking after the upkeep of the community.
Why is this research so important? The quality of your property management company can have a big impact on your overall enjoyment of living in your condo. Most property management companies are willing to provide you with current information on the building, all amenities, and any questions you might have regarding the surrounding area of the condo location.
Property management companies should also be able to answer any questions you have about maintenance fees, insurance, and other important details.
A good property management company will have the expertise and knowledge to keep things running smoothly, so you can kick back and relax. They'll also be proactive in addressing any problems that arise, so you don't have any nasty surprises down the road.
On the other hand, a less than stellar property management company can make life in your condo a real nightmare. So take some time to seek out and read online reviews, talk to current and past residents, and get a feel for what it would be like to work with the company before you buy.
It's worth it to do your due diligence upfront. Not only can it save you a lot of headaches and heartache in the future but with all your questions answered and the information you have been able to collect, you can be confident you're making the right decision for your new home.
7. Association Fees & Special Assessments
You've narrowed down the search but it's still not time to sign on the dotted line just yet. When buying a condo, there are what's called the association fees that come with every condo ownership. These fees can and do vary greatly from one condominium complex to another and they can add up very quickly and throw you a real curveball if you aren't prepared for them.
Let's take a moment to review what association fees are and what they usually cover? Most condo association fees are paid monthly and are used to pay for the maintenance and repairs of the common areas found in the building and grounds. This can include items like painting, landscaping, snow removal, and swimming pool maintenance to name a few.
The size of the condo unit you purchase and the amenities offered by the condo association can and often do greatly affect how much you pay each month.
Some associations also charge what's called a special assessment from time to time for major repairs or upgrades. This is an additional charge that is asked of all the condo owners over and above their monthly association fees.
Special assessment fees are typically assessed when there is a need for major repairs or renovations either known or completely unexpected. For example, if the roof needs to be replaced, all condominium owners would be required to contribute to the cost through a special assessment fee.
While these fees can be frustrating, they are necessary to keep your condominium in good condition, protecting the value of your investment. Without them, your property value could decrease and you could end up facing more significant repair bills in the future.
Before you close the deal on your condo purchase, be sure to ask about any and all upcoming special assessments that the association is aware of so you can budget accordingly.
By understanding all the association fees including special assessments, you can avoid being surprised by any such hidden costs after you have made the purchase of your lovely new home. Researching and understanding these will help you make a more informed decision when buying a condo.

8. Condo Regulations
Condo living has a lot of great perks. However, before you buy a condo, there are a few things you should know about condo regulations.
Firstly, all condos have an association that makes and enforces rules—so if you're not the type of person who likes following rules, condo living might not be for you.
Most condo buildings have limits on how many people can actually live in a unit, so be sure to check if there is an occupancy limit before making an offer. Of course, this may or may not affect you at this time but what about the future?
As previously mentioned, once you're a condo owner, you'll also be responsible for paying monthly association fees or dues and any special assessment fees.
You should probably remind yourself that owning a condo means living close to your neighbors. You are not just buying a unit - you're also buying into a community. This means being respectful of your neighbors.
Some condominium complexes have very strict rules regarding privacy and noise levels while others are more leniently regulated. Do your research so you are aware of the sound or noise regulations for the unit that you are considering.
Finally, because condos are often located in high-density areas, there may even be restrictions on things like pets or visitors. These are all things you need to be very clear on before you've signed and purchased.
Not all complexes are created equal and it is the responsibility of the potential owner to research and understand all the rules and regulations that the condo association has in place for its residents. Never assume anything before buying a condo.

9. Inspection
If you're thinking about buying a condominium, you may be wondering if it's necessary to have a professional building inspector check out the unit and the building itself. While it's not required, it's definitely a very good idea and highly recommended.
A building inspector can identify any potential problems with the unit, such as water damage or structural issues. Also, a condominium is a shared living space and there are potential risks that come with living in close proximity to other people. By having a building inspector check both the unit and the actual building, you can be sure that there are no hidden problems that could cause issues down the line.
They can also assess the condition of all the common areas of the building, such as the lobby, elevator, swimming pool, and any bonus rooms available for use for entertaining, etc.
While it may seem like an unnecessary expense, a building inspector can save you money in the long run. Should the inspector identify any problems, even minor ones with the property or specifically the unit you are interested in, this information may give you the power to negotiate a lower purchase price.
The information provided by the building inspector can be invaluable when making a decision about whether or not to purchase a particular condominium. So, while it's not mandatory, it's definitely wise and could be quite valuable to you to have a building inspector take a thorough look before even considering making an offer on a condo.

10. Patience
When you're thinking of buying a condo, it's so beneficial to be patient. This is especially true if you're looking to buy in 2022. The real estate market is constantly changing, and prices may go up or down at any time.
By being patient and waiting for the right opportunity, you are more likely to get the best possible deal on your dream condo.
With the recent pandemic causing so much uncertainty in the world, many people are somewhat hesitant to make major purchases right now. As a result, it's quite possible that prices on condos may even drop in the coming months as more and more people seem to be putting their plans on hold.
Perhaps the condo you are considering is a new build. If that's the case, being patient during the construction process could mean that you are likely to end up with a higher-quality unit that's been built to your detailed specifications.
So, if you're thinking of buying a condo, regardless of whether it is an existing complex or a brand new build, remember to be patient! Your patience will most definitely pay off in the long run.
Final Thoughts on Buying a Condo in 2022
We are confident that following these 10 tips from the beginning to the end of your condo-buying process, will indeed help to ensure that you have a smooth and successful experience.
Do your research, take the necessary time to understand all aspects of condo ownership, know your budget, take into consideration all the costs and fees involved now and in the future, and be patient.
Checking off all the above tips as you accomplish each and every one of these suggestions puts you in the best possible position to not only find the perfect condo unit for you but will allow you to make an informed purchase. So, what are you waiting for? Start your search today and find your dream condo.