Home Not Selling? Check Your Price.
Posted by Ron Wysocarski on Saturday, June 29, 2019 at 2:28 PM
By Ron Wysocarski / June 29, 2019
Comment
Home not sold yet? Check your price.

The residential housing market has been hot. Home sales have bounced back solidly and are now at their second highest pace since February 2007. In fact, our team has sold MANY homes and condos within a few hours, days or weeks of putting them on the market. Demand remains strong going into the winter. Many real estate professionals are reporting that instant sales and multiple offers are occurring regularly, and some listings are actually selling at or above listing price. In fact, our team has sold MANY homes and condos at or close to listing price, within a few hours, days or weeks of putting them on the market. What about your house or condo?
If your home or condo hasn't sold, it is probably the price.
If your home is on the market and you are not receiving any offers, it's time to look at your price. It's true that marketing is important and just putting a sign in the yard and a listing on the MLS isn't enough these days to get a home sold at top dollar. You do need an agent who's aggressive and using proven marketing strategies on numerous platforms, including online, radio, TV, etc. But once you have a good agent doing those things, the marketing alone won't be enough. The bottom line is...no amount of marketing in the world can sell an overpriced home.
Did you know that pricing your home just 10% above market value dramatically cuts the number of prospective buyers that will even see your house? In fact, setting your starting price too high can drastically cut your chances of getting a great offer on your home, even with later price reductions. (See Chart Below.)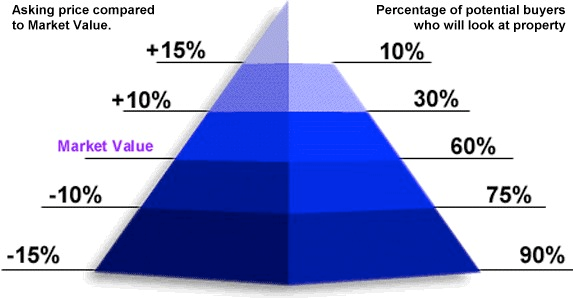 Here's the thing. The housing market is strong right now and homes priced right ARE selling. While there are some types of properties that simply take longer to sell, even when priced right, your agent is the only person who can tell you if your home or condo fits that category. So, if you are experiencing a home not selling and you are not seeing results you want after listing it on the market, it's sit down with us - or your current agent - and revisit the pricing conversation. Discuss what you can do to add value to your listing, and ensure the pricing on your home is RIGHT so you can get it SOLD.