How Swimming Pools Affect Home Values
Posted by Ron Wysocarski on Thursday, July 6, 2023 at 8:00 AM
By Ron Wysocarski / July 6, 2023
Comment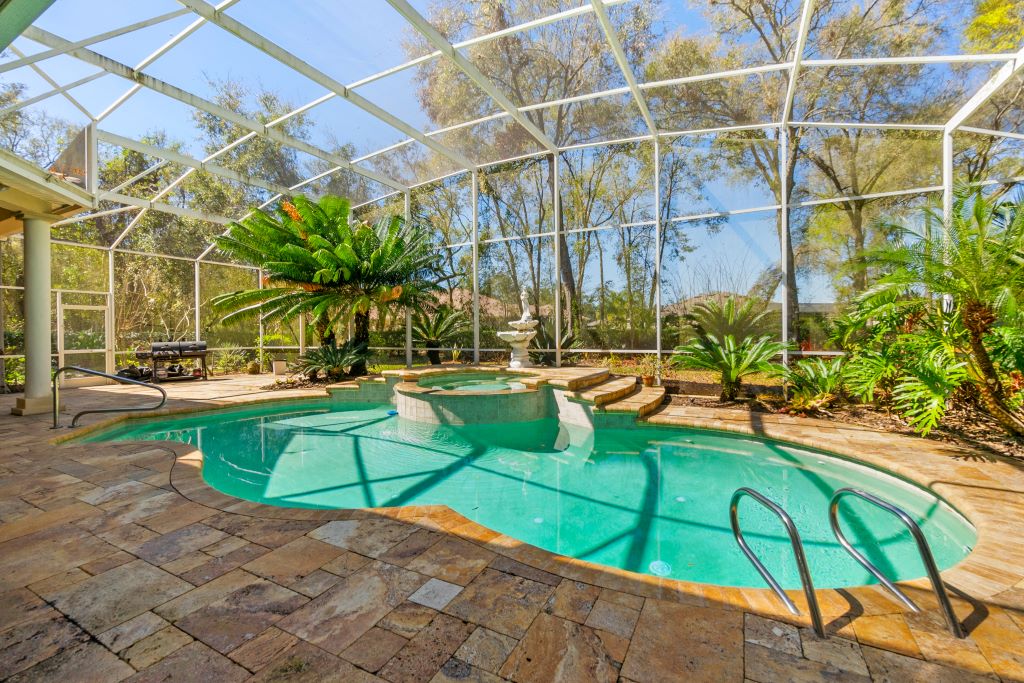 A new pool is a big investment. So for many homeowners considering the project, the first question is, "Does a pool add value to a home?"
The answer is.... No. Yes. Well, like many things in life... it depends.
Generally speaking, it's not a good idea to add a pool to your home for the mere sake of improving your home's value. You're probably better off making investments in kitchens, baths and even simple exterior or landscaping improvements.
But, if being able to dive right into a sparkling swimming oasis when Florida's temperatures and humidity levels have you at wits end is really the ultimate goal, then adding a pool to your property may be worth considering.
How Much Value Added Can I Expect?
There's never a guarantee that adding a swimming pool will increase your home's value. But there are some circumstances when the odds can be in your favor. According to a recent BankRate article, their research suggests that adding an in-ground swimming pool can increase home value by as much 7 percent. However, when you factor in the actual cost of installing that pool plus the ongoing maintenance that comes with simply owning a pool, you may find the upside in your home value isn't actually enough to completely cover the costs.
Wyse Home Team Realty CEO Ron Wysocarski says his experience selling more than 1300 homes across Central Florida has shown him that if the right circumstances line up, homeowners here tend to see a swimming pool increase their home value initially by 60% to 70%, of the amount the homeowner paid to install the pool.
But there's more value to consider than just the initial impact of the swimming pool's affect on home value. Homeowners in Central Florida have at least one thing working in their favor. Summers here aren quite HOT. And HUMID. And well, people want to enjoy the summer sun while also staying comfortable!
That helps your prospects of a return on the investment you'll make in a new pool. It makes swimming pools a desirable feature among more home buyers than you would expect in cooler states. Pool homes often sell faster, and for more money across central Florida. And in recent years, they've been at the heart of countless buyer bidding wars.
"If you live in a warmer climate like Florida or Texas, it can increase your property value and make it more likely to sell your home," Tom Casey, vice president of sales at Anthony & Sylvan Pools in Doylestown, Penn. told Bankrate.com for their article.
Still, there's never a guarantee you'll get your money back on a pool investment. So it makes sense to consider a few key things that add opportunities for more return on your investment (besides the amazing return of a dip in a sparkling pool on a hot Florida day!)
ROI Opportunities
One example of a situation when your bottom line is more likely to benefited by an in-ground pool investment is if lots of homes in your neighborhoods already have pools. With any home sale, you want your home's amenities, updates and features to be in line with the homes around it. If your home is lacking, compared to most others in the neighborhood, it can be harder to sell.
Your chances of earning a good ROI also improves if you make sure the pool doesn't overtake the yard. Buyers will still want room to put a swing set, plant a garden or play with their pets. You'll also want to ensure the pool's size, style and design fit with your home AND the neighborhood.
And it will be important to pay attention to the numbers. How swimming pools can affect home value is many times secondary to more important aspects of the property, such as a home's age, size, condition, location and current market conditions.
Costs
Building, installing and equiping an in-ground pool often has a price tag of $40,000 or higher. You'll also want a fence or screen enclosure around the pool, and your homeowners insurance company may even require it. Lighting and landscaping around the pool can also cause the startup costs to creep upward.
If you're going to spend $40,000 to $100,000 to build a pool... how does that number compare and relate to your home's current value? What about neighborhood values? Will they support a 7 percent boost in your home's value? (If not, you may want to consider letting us sell your home so you can buy another home that already HAS a pool!)
There's also ongoing maintenace to consider. Filters, chemicals, pool equipment and even the pool's surface itself all will require maintenance in the short or long term.
Another factor worth consideration is how a swimming pool affects homeowners insurance premiums. Homes with inground pools on the property are typically subjected to higher monthly and annual premiums. Homeowners insurance typically covers at least some the repair or replacement costs in the event of disaster or emergency. Policies also may provide liability coverage in the event of injury or death of a guest (assuming there was no negligence on the homeowners part in providing a safe swimming environment.)
Motivating Factors
At the end of the day, the biggest driver behind your decision to add a pool really should be your desire to HAVE a pool! How swimming pools affect your home value should be a secondary consideration in most cases. Our CEO would be happy to chat with you about your specific situation and whether a pool would help or hurt your home value anytime, so feel free to call.
And our friends at Solar-Fit, would be glad to talk to you more about how building your new pool to utilize solar pool technologies can cut your pool's operation costs and make it usable year-round to add value to your investment and make it more desirable to future buyers.