Moving To And Living In Ormond Beach, Florida: The Definitive Guide
Posted by Heather Scofield on Tuesday, June 1, 2021 at 5:55 PM
By Heather Scofield / June 1, 2021
Comment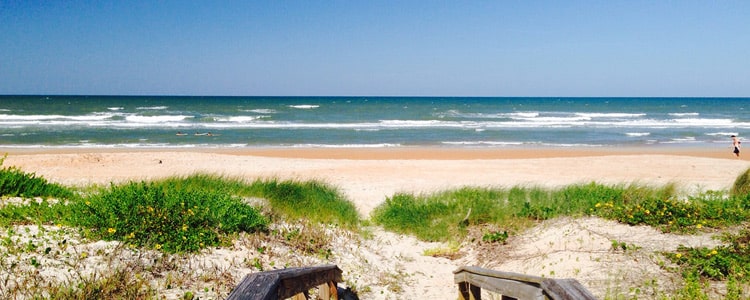 Found in the stunning Volusia County, Florida, Ormond Beach is home to approximately 44,000 people. Ormond is neighbors with the ever popular Daytona Beach and is a quieter, more relaxed area to achieve a waterfront lifestyle. Due to the close proximity, Ormond Beach residents can still enjoy the exciting amenities of Daytona Beach while remaining tucked away from the almost non-stop hustle and bustle of the bigger city.
The white sand beaches of Ormond Beach are known to be a magnificent stretch of natural beauty, covered with colorful seashells, home to refreshing waters of the Atlantic, and surrounded by tree-filled parks, perfect for a relaxing day soaking up the hot, Florida sunshine.
Anyone considering moving to Ormond Beach should take into account all of the incredible amenities that will be made available to them. The city is filled with eclectic dining options, historical landmarks, stunning scenery, and countless activities, both indoor and outdoor. Anyone who has the privilege of calling Ormond Beach home is blessed with some of Florida's best!
View All Homes For Sale in Ormond Beach, FL >>>
What is the History Of Ormond Beach?
The hard, white beach of Ormond started to gain in popularity shortly after the Civil War when the wealthy residents of the north would seek relief from the harsh winter climates. This contributed to the Floridian boom in tourism and was aided by the St. Johns & Halifax Railroad completion in 1886. The following year, the first bridge was built across the Halifax River, adding to the ease of transportation around and through the city.
The tourism industry really took off when the Ormond Hotel was opened in January of 1888 and by 1890, renovations were completed to accommodate up to 600 guests. This was the first in a series of Gilded Age hotels that housed visitors travelling along the Florida East Coast Railway.
More tourism crowds were brought to the area in 1902 when the first automobile races were held between Ormond Beach and Daytona Beach. By 1903, Ormond Beach acquired their still popular nickname, "The Birthplace of Speed."
Ormond Beach always has been and still remains, a popular tourist destination. In the last few decades, however, the permanent residential population has increased, allowing the locals to enjoy the incredible amenities and the beautiful Florida weather all year long.
What is Real Estate Like In Ormond Beach?
Ormond Beach offers plenty of beautiful real estate for all types of lifestyles. Homes along the waterfront provide picturesque views and a sense of tranquility that can't be found anywhere else. The city's collection of well-maintained parks are perfect for children and the safe and calm streets allow seniors to relax and enjoy their retirement years. Working professionals can take advantage of the thriving job market both within the city borders and in the surrounding area.
Condos and apartment units are a popular choice in Ormond Beach; from small apartment buildings to towering condominiums, these homes can be an incredibly affordable option for those who want to enjoy the beachside lifestyle.
Detached, single-family homes are the most common type of real estate in the city and come in a splendid variety of styles. The listings showcase everything from cozy, cottage-style homes to moderate bungalows and larger two-story homes. Detached homes in Ormond Beach range in price from $300,000 to over $6,350,000+.
Attached, multi-family homes come in the form of duplexes, triplexes, and townhouses. These developments are an affordable option for starter homes and retirement housing. Multi-family homes among the Ormond Beach listings range in cost between $300,000 to over $800,000 and typically consist of two to three bedrooms.
Mobile and manufactured homes are usually the most affordable real estate option and there are several of these developments found within Ormond Beach. The cost for such homes range between $57,900 for a two-bedroom mobile home to approximately $650,000 for a four-bedroom manufactured home.
Neighborhoods
Potential residents moving to Ormond Beach have a wonderful selection of neighborhoods from which to choose. There are plenty of benefits to each area, from excellent schools to access to nearby shops, from homes located along the beach to quiet suburbs with plenty of privacy.
Some of the top neighborhoods in Ormond Beach include:
Breakaway Trails
Square Footage: 1,500 - 7,000 square feet
Breakaway Trails is an upscale, gated community just off of State Road 40. This quiet neighborhood is not far from the beaches and ocean, providing ample access to the water and top recreational areas in the city.
Those residing within the contemporary homes of Breakaway Trails have the added benefit of private amenities. These amenities include the following:
neighborhood pool
children's playground
multiple tennis and basketball courts
roller hockey rink
recreational fields outfitted for baseball, soccer, and football
covered pavilion
View All Homes For Sale in Breakaway Trails >>>
Capriana
Square Footage: 2,390 - 2,515 square feet
When it comes to luxury, oceanfront condos, Capriana offers the best of the best in Ormond Beach. Built in 2006, Capriana is one of the newer neighborhoods in the city and features gorgeous condo units along with a number of fantastic amenities onsite. Capriana is the perfect spot to retire and working professionals can take advantage of the proximity to Ormond Beach's many businesses and services.
Amenities available to residents of the Capriana building include:
heated outdoor pool
indoor pool and hot tub
exercise facility
outdoor grill and patio
party/club room
oceanview and riverview units
View All Homes For Sale in Capriana >>>
Halifax Plantation
Square Footage: 2,300 - 6,000 square feet
Halifax Plantation is a development of luxury estates and comfortable houses in Ormond Beach. A benefit to living in this dream community is the easy access to all major shopping centers, highways, parks, and the sandy beaches that Ormond Beach is known for.
The homes within the Halifax Plantation neighborhood are cozy and welcoming. The surrounding natural resources provide a quiet, relaxed atmosphere and the winding streets keep the traffic noise of the bigger highways out of the backyards. Residents also have access to the Halifax Plantation Golf Club and all the amenities offered there.
The Halifax Plantation Golf Club offers the following membership amenities:
driving range
putting and chipping green
access to Tavern by the Green
golf and tennis pro shops
four tennis courts
junior Olympic swimming pool
fitness facilities
banquet facilities
meeting rooms
View All Homes For Sale in Halifax Plantation >>>
Coquina Key
Square Footage: 3,256 - 4,725 square feet
A beautiful beach community, Coquina Key is found along Ocean Shore Boulevard across from a private stretch of Ormond Beach. Towering palm trees and colorful houses line the streets and offer the perfect Florida experience. Residents can enjoy the surrounding sea breezes, listen to waves crashing along the shoreline, and stunning views along the ocean horizon.
Surrounded by Florida State Parks, including the vast, open stretch of North Peninsula State Park, Coquina Key is treated to beautiful natural scenery in every direction. This gorgeous neighborhood is often claimed to have the best location in all of Ormond Beach due to the views and tranquility found only in this section of the city.
View All Homes For Sale in Coquina Key >>>
So Much To Do
Churches and Architecture: There are dozens of beautiful buildings found within Ormond Beach, but none more beautiful than the towering Catholic churches. Some of these stunning churches include Prince of Peace Catholic Church, St. Brendan Catholic Church, and Holy Dormition Byzantine Catholic Church. If you love touring old and majestic structures, have a look at these churches and marvel at the size of the building and the stained glass windows sparkling in the sunshine.
Family-Friendly Activities: If you've got young children in tow, you want to spend the day doing something fun and exciting to keep all entertained. Ormond Beach has plenty to keep littles satisfied from bowling alleys and movie theatres to parks and playgrounds.
Rest and Relaxation: A great way to relax on a rainy day is to venture out to one of Ormond Beach's fabulous day spas or wellness centers. Two of the top local picks are the Himalayan Wellness Spa and the Amazing You Day Spa. At either of these facilities, guests can indulge in relaxing massage, facial scrubs, and other soothing self-care treatments.
Enjoy The Outdoors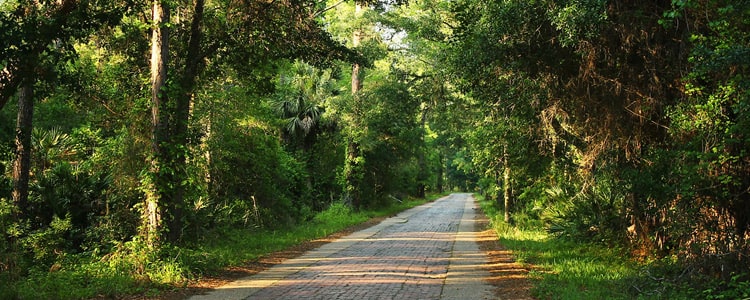 If there's one thing Ormond Beach has plenty of, it's access to the great outdoors! Locals and visitors alike can enjoy Florida's natural settings via parks, beaches, and hiking trails. Many of the neighborhoods found in the city are surrounded by forests or beaches, providing ample opportunity for residents to indulge in sun, sand, and plenty of wildlife.
Ormond Beach: The city's namesake, is a scenic eighty miles of beach stretching from Matanzas Inlet to Ponce Inlet. The sandy shores are perfect for day trips, family picnics, and gatherings with friends and are known to be peaceful and calm compared to the more popular Daytona Beach, located just south of Ormond Beach. This quiet atmosphere is aided by the lack of hotels and high-rises along the shoreline, keeping the visiting population down to mostly locals.
Tiger Bay State Forest: is made up of swamps and pine trees, offering the best of Florida's natural beauty. Within this park, visitors can enjoy a variety of outdoor activities, both to stay active and healthy as well as relaxed and lazy. For a more laid back experience, visitors can enjoy the shade of the picnic shelter of fish in Woody Pond. More active park-goers can try horseback riding or hiking along the trails, or even stay the night at the onsite campground.
Andy Romano Beachfront Park: Great for outdoor enthusiasts looking for a little fun and activity. The park is made up of four acres of land that backs right up to the Atlantic Ocean. Recreational facilities include a children's splash pad, a great playground, and of course, plenty of sandy beach ground to relax and enjoy.
A Focus On Education
Ormond Beach falls under the jurisdiction of the Volusia County School District. Volusia covers sixteen cities including Daytona Beach, Edgewater, Holly Hill, Orange City, and of course, Ormond Beach. The school board serves over 63,000 students in pre-kindergarten through twelfth grade and is made up of forty-five elementary schools, twelve middle schools, and nine high schools. Additionally, there are nine alternative schools, seven charter schools, two combination schools, and one district virtual instruction program.
In Ormond Beach, there are thirteen elementary schools:
Burns Science & Technology Charter School
The Chiles Academy
Holly Hill School
Ivy Hawn Charter School of the Arts
Osceola Elementary School
Ormond Beach Elementary School
Ortona Elementary School
Pathways Elementary School
Pine Trail Elementary School
The Reading Edge Academy
Samsula Academy
Tomoka Elementary School
Westside Elementary School
There are two middle schools:
David C. Hinson Sr. Middle School
Ormond Beach Middle School
There are two high schools:
Mainland High School
Seabreeze HighSchool
The Arts, Culture, & History
Residents and tourists alike have several opportunities to learn more about Ormond Beach's culture and history, not to mention the artistic scene. Florida is home to a rich heritage and many historical buildings and landmarks have been preserved and still stand today. Here are just a few of the spectacular cultural, historical, and artistic attractions and galleries found within Ormond Beach:
The Casements: One of the most popular historical attractions in Ormond Beach is The Casements, a 1900s-era home situated along the banks of the Halifax River. In 1918, the home was purchased by business mogul John D. Rockefeller and the home is now known for its residential and historical significance. Today, The Casements is host to many activities throughout the year including historic tours, the Hungarian Folk Exhibit, the Boy Scout Historical Exhibit, Movies on the Halifax, and a weekly Farmers Market.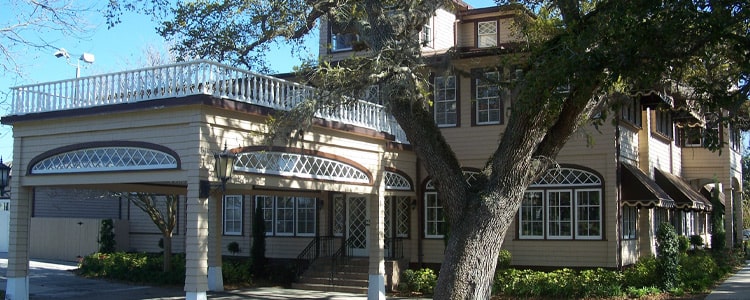 The Dix House: On September 6, 1989, the Dix House was officially added to the U.S. National Register of Historic Places. This historic home was originally designed and built in 1876 by Colonel Dix for his two sisters to live. The home was large enough and had an open second floor to host weddings and events and became a very popular destination over the years. The house has since suffered much damage from hurricanes but has been renovated under the strict guidance of the historical society to recreate the period home and stands as a glorious piece of history in the city.
Ormond Memorial Art Museum and Gardens: Exhibitions at this beautiful facility include a wide range of unique artwork submitted by local Florida artists as well as national artists. Along with a variety of oil paintings and sculptures, the center also features botanical gardens that were dedicated to veterans of World War I and World War II. The gardens feature the Emmons Cottage that has been a fixture since 1885. Visitors can enjoy the beauty of the artwork as well as the historical significance of the gardens and memorials.
Wining, Dining, and Shopping
Winos of Ormond Beach can rejoice at the plethora of fantastic wineries and vineyards within the city and in the surrounding area. There's something about spending an afternoon sipping delectable reds and sensational whites, surrounded by vast stretches of vineyards, and socializing with friends, both old and new. Some of the top wineries in and around Ormond Beach include:
Flagler Beachfront Winery
San Sebastian Winery
Lake Seneca Farms
Brix & Mortar Urban winery
When it comes to dining, you can find just about every ethnic cuisine under the sun in Ormond Beach. Whether you're craving seafood, Mediterranean, Italian, barbecue, or a traditional American steakhouse, you can find it within the borders of the city. Some of the top restaurants in Ormond Beach include:
Greektown Taverna
Alfie's Restaurant
Bronx House
Stavro's Original Pizza House IV
If you're looking to shop 'til you drop, look no further than the wonderful plazas and complexes of Ormond Beach. Everything from unique boutiques to familiar big-box favorites can be found here. Some of the best shopping centers in Ormond Beach include:
Ormond Towne Square
Ormond Beach Mall
Fountain Square Shopping Village
Riverside Antiques Shop
Granada Plaza

It's safe to say that living in Ormond Beach, Florida, has no shortage of incredible benefits. If it's not the amazing fresh air that captures your attention, it may be the gorgeous waterfront properties or the seemingly unending list of family-friendly excursions as well as the booming nightlife. Ormond Beach offers some of the most beautiful and peaceful neighborhoods in all of Florida and the lucky ones who call this fabulous city home are truly living their best life!