Moving To & Living in Palm Coast, Florida: The Definitive Guide [2022 Edition]
Posted by Heather Scofield on Monday, July 5, 2021 at 6:49 PM
By Heather Scofield / July 5, 2021
Comment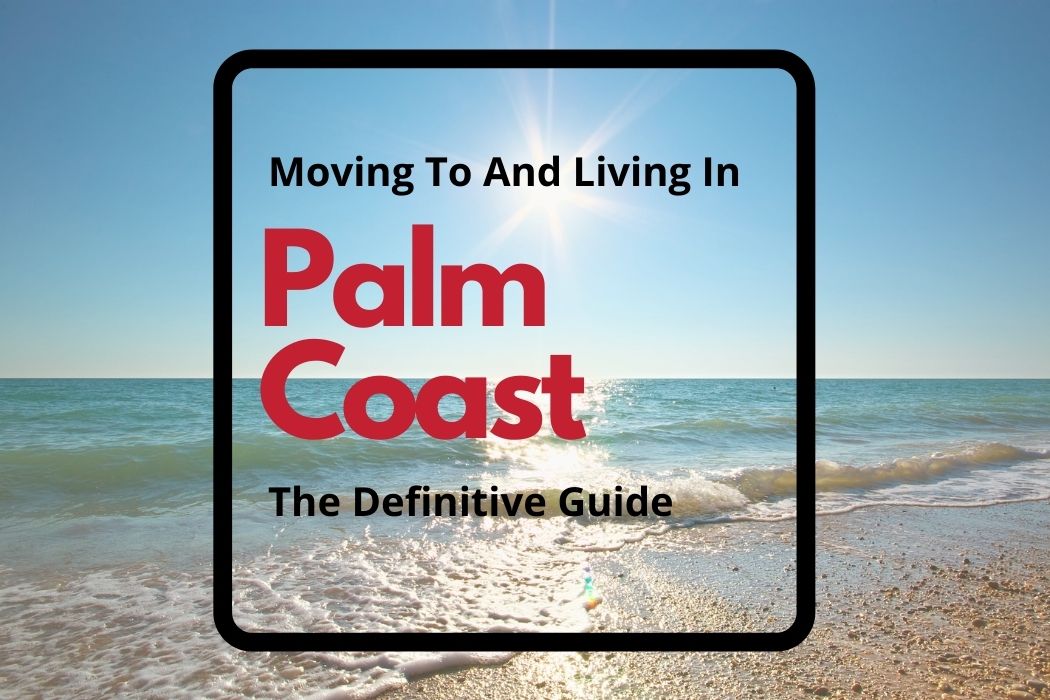 Natural beauty, an active sports scene, and a vibrant culture await those moving to and living in Palm Coast, Florida. Incorporated in 1999, Palm Coast is one of the newest and fastest-growing cities in the U.S. The city lies along Interstate 95 in Northeast Florida, nestled between Daytona Beach and St. Augustine, within minutes of the Atlantic Ocean. Suitable for nearly any lifestyle, this environmentally conscious city has opportunities for everything from tranquil relaxation to intense activity.
View All Homes For Sale in Palm Coast, FL >>>
In this guide, you will discover what makes Palm Coast a uniquely charming place to live. Moving to and living in Palm Coast, Florida is your ticket to pleasant surroundings, exciting activities, and both fine dining and casual restaurants. Here, you will find everything you need to create a wonderful life for yourself and your family.
History of Palm Coast, Florida
In the not too distant past, in 1969, what is now Palm Coast was a swamp covered in pine trees. The area was a popular destination for hunters and fishers, but virtually no one lived there. However, the ITT corporation had the vision to imagine a thriving community in that location. So, the corporation bought the land and sold tracts of it to people interested in making a home in the area. Next, ITT built the infrastructure and pushed for a water management project to solve the swamp issue.
In 1970, Palm Coast development had its grand opening with their welcome center - the first public building at the site - already in place. Homes sprung up quickly, and by 1972, people had begun living there.
When ITT withdrew its leadership and financial backing in 1995, the people of the area began to work towards incorporating the city as Palm Coast, Florida. By 1999 they had accomplished their goal, and Palm Coast was a city. As of 2021, the population of this brand new city has reached over 94,000 people.
Neighborhoods

Palm Coast has many neighborhoods to choose from, with many different types of homes, lots, and community amenities. In Palm Coast, homes range from upscale luxury dwellings to simple, affordable family homes. No matter what your lifestyle or preferences, you will likely find a suitable home in this fascinating city.
Because Palm Coast was a planned development, the city is laid out in a very systematic way. Neighborhoods are identified by their sections. For example, Palm Harbor, where the first neighborhoods were located, is in sections F and C. Street names begin with the letter of the section.
Northern Sections
The northern sections of Palm Coast are located from north of Palm Coast Parkway to the county line. Three neighborhoods in the northern sections are Palm Harbor, Indian Trails, and Matanzas Woods. Palm Harbor has many types of homes to please nearly any taste. This section has easy access to the Intercoastal Waterway. Scenic overlooks and natural walkways create a pleasant environment here.
Indian Trails, the B Section, is an excellent neighborhood for families. It is not only close to St. Augustine, where many of its residents work, but it is also home of the county library and the Flagler Adult Education Center.
Matanzas Woods is in the L Section. Located very close to St. Augustine, this neighborhood has many single-family homes, some duplexes, and building lots for new home construction.
Southern Sections
The borders of the southern sections of Palm Coast run from Route 100 to Route 1. Quail Hollow is a large neighborhood, covering Sections K, Z, and LL. Two miles from the Flagler County Airport and near both Daytona Beach and Ormond Beach, Quail Hollow has many waterfront homes for single families.
Another neighborhood in the southern part of Palm Coast is Seminole Woods. In the S and U Sections, Seminole Woods is near Flagler Beach and only a few miles from the Florida Hospital. This is one of the quieter parts of Palm Coast, with family homes surrounded by natural beauty. Playgrounds, tennis and basketball courts, and a convenient location make this neighborhood appealing.
And of course there is Grand Haven. Grand Haven is a sprawling 1,400 acre development situated next to a 4,000-acre nature preserve and the Intracoastal Waterway. Residents here enjoy walking and biking trails, beautiful parks and close proximity to area beaches. There is a golf and country club with access to the Jack Nicklaus Signature Golf Course and clubhouse overlooking the Intracoastal Waterway plus two activity centers and an athletic club. Residents and club members have options to access amenities like indoor lounge space, game room, multi-use ball fields, croquet court and lawn, volleyball, basketball, resort-style swimming pools, fitness center, fishing pier, dining and meeting facilities, a spa and fitness center, tennis courts, pickleball courts, bocce ball, horseshoes, and a variety of monthly events and activities.
Central Sections
The sections in the central part of Palm Coast are located between Route 100 to the south and Palm Coast Parkway to the north. The following are neighborhoods in these central sections.
Amenities

In Palm Coast, you will find a world of amenities right in the city and nearby with easy access. Town Center is the largest shopping center, with many retail stores. At European Village, discover a wide range of unusual shops. The city also has several department stores, including Target, Ross, Kohl's and Bealls.
Enjoy yourself at the Flagler Auditorium or take in a production at the Flagler Playhouse and City Repertory Theater. Palm Coast has a thriving art community, including the Flagler County Art League and the Hollingsworth Gallery. Spend an afternoon at the 57-acre Linear Park or take a walk on one of the many hiking trails. Set out for the waterways from the local marina or watch a sports event at the Indian Trails Sports Complex.
Education Options
Flagler has a fantastic education system. In fact, it has been named an Academically High Performing School District. The public schools offer magnet schools, Advanced Placement, International Baccalaureate, virtual learning, charter schools, and private technology instruction.
The Flagler County School District has seven elementary schools, two dedicated middle schools as well as middle grades in some elementaries, and two high schools. The schools in this district have high ratings and relatively low student-teacher ratios.
The city also has private schools, including Christ the King Lutheran School, Freedomschoolers Academy, and St. Elizabeth Ann Seton Catholic School.
As for higher education, Palm Coast is within 100 miles of 42 colleges. Those within 30 miles of the city include:
Flagler College at St. Augustine
Bethune Cookman University at Daytona Beach
Daytona State College at Daytona
Embry Riddle Aeronautical University at Daytona Beach
Saint Johns River State College in Palatka, Florida
Sightseeing and Outdoor Activities
You will never run out of things to see and do in Palm Coast. For natural beauty, take a trip to the Bird of Paradise nature preserve, Waterfront Park, or the nearby freshwater and saltwater canals. A visit to the Florida Agricultural Museum gives you a close-up view of the area's colorful past.
The Palm Coast Sports Alliance promotes a variety of sporting activities for local people of all ages. Leagues and tournaments include soccer, Little League, softball, Special Olympics, pickleball, and martial arts.
Exciting Beach Adventures

The Flagler Beaches in and near Palm Coast offer an array of outdoor experiences. Try horseback riding on the beach, swimming with the dolphins, or taking an ecotour in a kayak. Sit back and bask in the natural wonderland of Washington Oaks Garden State Park, where you can wander the gardens in search of exotic flora and fauna. There, you can have a picnic, fish, or lounge on the beach.
Besides Washington Oaks, there are three pet friendly beaches in Palm Coast. The Jungle Hut Road Park is a great place for birdwatching, with countless hummingbirds, gulls, and pelicans. Take a walk across the dunes or sunbathe by the water in this small but fabulous beach site. Watch the waves crash over intriguing rock formations at Old Salt Road Beach Park. Plus, you might even see a whale there ! You will find even more spectacular coquina rock formations at the 36-acre Malacompra Road Beachfront Park.
Go birdwatching at Varn Park, a pet-friendly beach access park where you can fish for snapper, whiting, or flounder. Stop at the bait shop at Flagler Beach Municipal Pier to prepare for a day of fishing. At the River to Sea Preserve, you can not only participate in water sports, but you can also take in the boardwalk or learn about ecology before heading to the beach.
Hammock Beach Golf Resort & Spa
If you are moving to and living in Palm Coast, Florida, you might wonder why you should care about a resort with hotel rooms, villas, and vacation rentals. For one thing, your friends and family will love staying at this luxurious retreat.
However, there is much for local residents to enjoy at Hammock Beach Golf Resort, too. Not only can you play a round at a world-class golf course, but you can take advantage of any of the six resort restaurants, including Delfinos, Loggerheads, and the Ocean Bar Cafe. Beyond that, guests of the resort can relax and refresh at the exclusive spa with everything from a variety of massage techniques to signature spa treatments.
Restaurant Choices for Everyone
Palm Coast has one of the most unique collections of dining options for a city of its size. World cuisines take the stage at several restaurants. Mamaling is the destination for Southeast Asian street foods, while the Portugal Wine Bar & Grill offers up authentic Portuguese selections. The Fifth Element has amazing Indian cuisine, while La Creperie Kafe serves crepes, croissants, and other French dishes.
For upscale dining, enjoy an evening meal at La Piazza Cafe or a repast at Atlantic Grille at Hammock Beach Golf Resort & Spa. At 386, A Fusion of Fine Eating, you can take in a culinary experience that combines the best of local cuisine and world delicacies. From fresh seafood to steaks, this restaurant always delights.
If you're looking for gluten-free or keto selections, consider Rodie's Place for breakfast or lunch. Prefer craft beers and bar food? The Brown Dog has it all. With El Pollo Colorado for Puerto Rican foods, Fancy Sushi & Grill or Sushi 99 for Asian cuisine, A1A Burrito Works Taco Shop, and Joe's New York Pizza and Pasta, you are sure to find your favorite dining experience in Palm Coast.
Of course, having fast food readily available is a must for modern families. In Palm Coast, options include Culver's, Chick-fil-A, Zaxby's Chicken Fingers & Buffalo Wings, Steak 'n Shake, and Taco Bell.
A Beautiful, Peaceful City
Perhaps the most appealing aspect of life in Palm Coast is the incredible natural beauty of the place. As you drive down this city's streets, you may pass between lines of tall oak trees and under a canopy of Spanish moss. The freshwater and saltwater canals as well as lakes and ponds offer outstanding views and all kinds of water activities. The vast network of hiking trails in and around Palm Coast allows you to enjoy the scenery at your leisure on foot or bicycle.
Not only is the physical environment beautiful, but Palm Coast residents are determined to preserve its natural wonders. Palm Coast is a friendly, cohesive yet diverse community with so much to see and do. Most Palm Coast residents enjoy a tranquil, laid-back lifestyle.
However, if you need more excitement, you can quickly hop over to St. Augustine or Daytona to check out the nightlife, sample more cuisines, or try a more extensive range of entertainment options. You can get to either place in under a half hour.
For its convenience, peaceful atmosphere, beautiful scenery, and diverse dining and recreational opportunities, Palm Coast is truly a wonderful place to live.
We provide specialists for every part of the sales process to ensure our customers receive world class service. This team of experienced real estate specialists know the industry, the diverse Florida markets we serve, and our organization well. Our primary focus is always on the buyers and sellers we serve, because we want to ensure your next real estate transaction is as easy as a day at the beach!
View All Homes For Sale In Palm Coast, Florida