The Ultimate Guide To Preparing Your House To Sell In Port Orange, FL
Posted by Asterisk Marketing on Thursday, October 19, 2023 at 11:35:03 PM
By Asterisk Marketing / October 19, 2023
Comment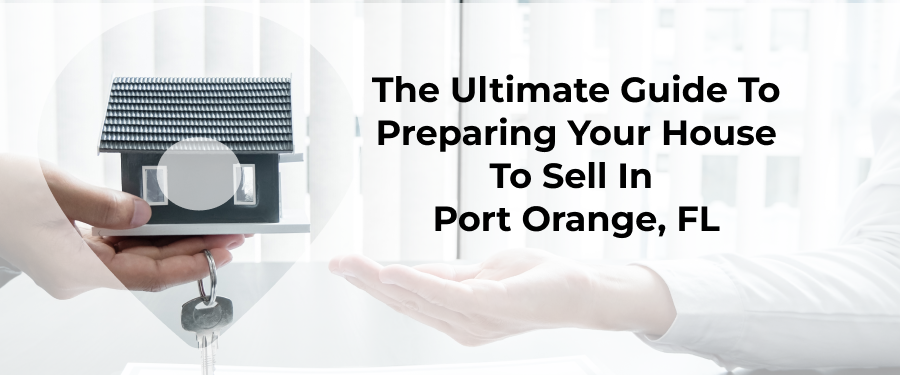 Selling your house is a significant milestone, and when it comes to real estate, location matters just as much as the property itself. If you're considering selling your home in the picturesque coastal city of Port Orange, Florida, you're in for an exciting journey. Nestled along the Atlantic coast, Port Orange is known for its beautiful beaches, friendly community, and a real estate market that's as dynamic as the waves that roll onto its shores.
To attain a successful home sale, it is crucial to engage in thorough planning and meticulous preparation. This is where The Ultimate Guide To Preparing Your House To Sell In Port Orange, FL becomes invaluable.
Table of Contents
Here, we will lead you through a systematic process for readying your property for the real estate market. You will also gain valuable insights into the local property market, and we will assist you in ensuring a smooth transition to your next life phase. Regardless of whether you possess experience as a seller or you are embarking on your inaugural home-selling journey, our all-encompassing guide will equip you with the knowledge and tools required to guarantee the triumphant sale of your Port Orange dwelling.
Understanding the Port Orange Real Estate Market
Port Orange, a city known for its diverse neighborhoods, is home to 12 distinct residential areas, each with its unique character and attributes. Notable communities in this thriving real estate scene include Grey Oaks, Port Orange Isles (East and West), Watersedge, Woodlands, Countryside, and Allandale/Harbor Oaks.
The predominant housing type in Port Orange consists of single-family detached homes, with an average age of 33 years. Regardless if you're searching for a starter property or a spacious estate, Port Orange offers a wide range of choices for potential homebuyers, catering to various preferences. Furthermore, the city boasts a significant rate of homeownership, underscoring its enduring appeal as a place where residents invest in their homes and community.
Setting Your Selling Goals
Selling a home involves more than slapping a "For Sale" sign on your front lawn. It's essential to start the process with clear and realistic selling goals. These objectives will serve as your compass, keeping you focused on what matters most and providing direction during the sale. When setting your selling goals, consider factors like your timeline, expected profit or break-even point, and any potential challenges or limitations. Additionally, consider the local real estate market in Port Orange, including average home prices, market trends, and competition. Armed with this information, you'll be better positioned to make informed decisions throughout the selling process.
Recently Listed in Port Orange, FL
View Homes in Port Orange, FL
See detailed information & photos.
View Homes for Sale
Choosing The Right Time To Sell
Choosing the right time to sell your property in Port Orange, FL is a critical decision that can significantly impact the success of your real estate transaction. The city experiences distinct seasonal variations in its housing market, making timing a crucial factor in your selling strategy.
Seasonal Variations in the Port Orange Market:
Port Orange, like many coastal communities, experiences fluctuations in the real estate market throughout the year. Understanding these seasonal variations is essential. For example, during the warmer months, there may be an influx of potential buyers, particularly those seeking vacation homes. Being aware of these trends will allow you to tailor your approach to align with market conditions.
Identifying the Best Time to List Your Property:
The key to a successful sale lies in identifying the optimal time to list your property. By strategically timing your listing, you can attract more motivated buyers and potentially secure a higher selling price. Whether it's taking advantage of the peak season when demand is high or strategically listing during a period of reduced competition, choosing the right timing is vital.
In the competitive Port Orange real estate market, timing can make a significant difference in your selling experience. Being informed about the seasonal patterns, strategically choosing when to list your property, and considering various external factors will empower you to make a well-informed decision, ultimately leading to a successful and profitable sale.
Preparing Your Port Orange Property
When it comes to selling your property in Port Orange, FL, meticulous preparation is key to making a lasting impression and attracting potential buyers. This involves a comprehensive approach to ensuring your property is in its best possible condition. Begin with a thorough home inspection and assessment, which will help you identify any underlying issues or necessary repairs. Addressing these concerns promptly can significantly boost your property's appeal and value.
Don't overlook the importance of regular maintenance, which includes fixing leaky faucets, replacing worn-out fixtures, and ensuring all systems are in proper working order. Enhancing the functionality and aesthetics of your property is crucial to attracting potential buyers and positioning your home competitively in the Port Orange real estate market. Additionally, focusing on curb appeal through landscaping and implementing home staging tips will further enhance the overall appeal of your property.
Pricing Your Home Competitively
Pricing your Port Orange, FL home competitively is a pivotal aspect of a successful sale. A Comparative Market Analysis (CMA) serves as your compass, guiding you to an appropriate listing price by assessing similar recent sales in your area. By setting a competitive listing price, you ensure that your property captures the attention of prospective buyers and real estate agents, increasing the likelihood of quick and effective sales.
It's important to understand that competitive pricing doesn't mean undervaluing your property but rather positioning it strategically within the market to garner interest. Overpricing can lead to a protracted listing period and the potential need for price reductions, which may deter potential buyers. Furthermore, by establishing an attractive price from the outset, you'll have a stronger position in price negotiations, maximizing the chances of closing a successful deal.
Marketing Your Property
Perhaps one of the most crucial aspects of selling a home in Port Orange is effectively marketing your property to potential buyers. In today's digital age, having a robust online presence is essential to reaching a broad audience of potential buyers. Some effective marketing strategies include:
Hiring a professional photographer to capture high-quality images of your property for listings and virtual tours.
Listing on various online platforms, including popular real estate websites, social media channels, and listing services.
Working with a reputable real estate agent who has access to a broad network of potential buyers and can help you navigate the selling process.
Hosting open houses and private showings to give interested buyers an opportunity to view your property in person.
Utilizing virtual tours and 3D walkthroughs to allow potential buyers to virtually experience your property from the comfort of their own homes.
Working With Real Estate Professionals
In the complex world of real estate transactions, enlisting the expertise of professionals can be the key to a successful sale. Here's why working with local experts in Port Orange, FL is crucial:
Hiring a Real Estate Agent: A reputable and experienced real estate agent will be your greatest ally throughout the selling process. They have in-depth knowledge of the local market, access to resources and marketing channels, and negotiation skills that can help you achieve a successful sale.
The Role of a Real Estate Attorney: A real estate attorney is essential to ensure the legal aspects of the transaction are handled meticulously. They review contracts, assist with negotiations, and oversee the closing process, safeguarding your interests and ensuring a smooth and legally sound transaction.
Choosing a Reliable Home Inspector: A trusted home inspector is crucial to assess your property's condition, and identify any issues that may need attention before the sale. Their unbiased evaluations offer transparency to both you and potential buyers, fostering trust that will ultimately benefit the sale.
Coordinating with Appraisers and Contractors: Collaboration with appraisers and contractors is essential for determining the fair market value of your property and addressing any necessary repairs or enhancements.
Showings And Open Houses
As prospective buyers view your property, it is essential to create a positive and welcoming atmosphere. Consider the following tips during showings and open houses:
Depersonalize your home by removing personal photos or items that may distract potential buyers.
Keep the space clean and clutter-free.
Let in natural light and consider adding some fresh flowers or plants for a touch of nature.
Create a warm and inviting ambiance, for example, by turning on soft music or lighting candles.
Consider providing refreshments and snacks for open houses to make potential buyers feel more at ease.
Receiving And Negotiating An Offer

Once an interested buyer submits an offer, your real estate agent will review and negotiate on your behalf. It is essential to consider all aspects of the offer, not just the price. Some factors to keep in mind include:
The financial strength of the buyer and their ability to secure financing.
Contingencies and special requests from the buyer.
Closing timeline and flexibility.
The Closing Process
The closing process is the final step in selling your Port Orange home. It involves signing legal documents, transferring ownership of the property, and receiving payment for the sale. Your real estate agent and attorney will guide you through this process, ensuring all necessary paperwork is completed accurately and efficiently.
Once all parties have signed and funds have been transferred, congratulations! You've officially sold your Port Orange home.
Selling a home in Port Orange, FL can seem like a daunting task, but with the right approach and support from professionals, it can be a smooth and successful experience. By pricing competitively, effectively marketing your property, enlisting the help of real estate experts, and creating a welcoming atmosphere during showings and open houses, you can increase your chances of a quick and profitable sale. So, take these tips into consideration and get ready to say goodbye to your Port Orange home!
We provide specialists for every part of the sales process to ensure our customers receive world class service. This team of experienced real estate specialists know the industry, the diverse Florida markets we serve, and our organization well. Our primary focus is always on the buyers and sellers we serve, because we want to ensure your next real estate transaction is as easy as a day at the beach!