The 13 Best Things About Oceanfront Living In New Smyrna Beach, FL
Posted by Asterisk Marketing on Monday, November 14, 2022 at 9:11:44 AM
By Asterisk Marketing / November 14, 2022
Comment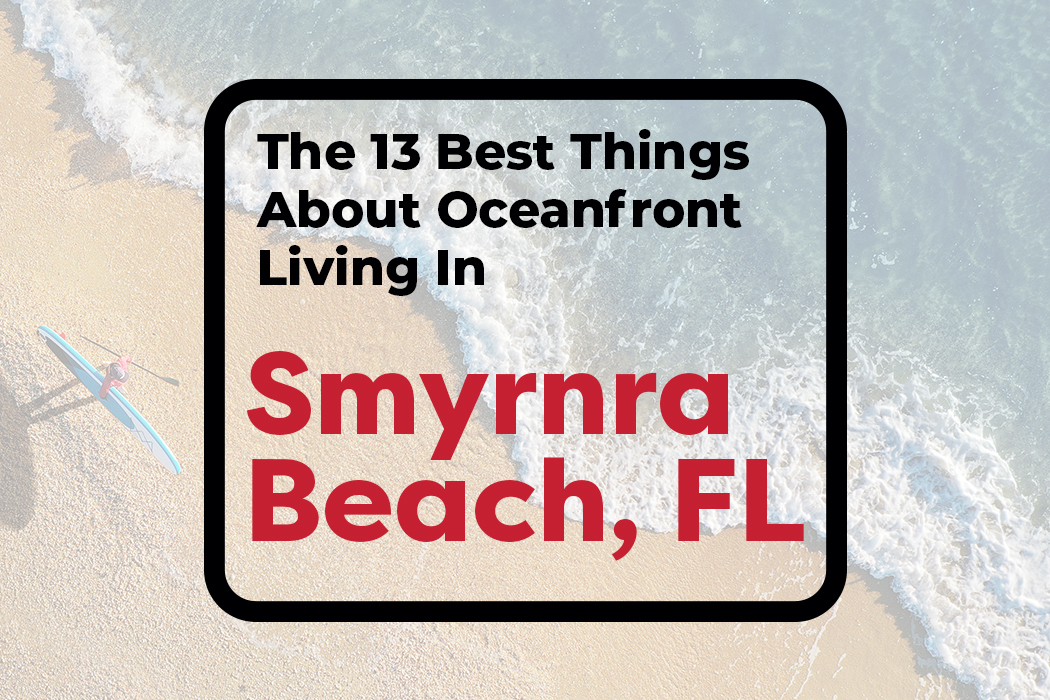 Have you been wondering about living on the New Smyrna Beach oceanfront? Maybe you're craving to be woken by gentle waves inviting you out to dip your toes in. Or is it the endless soft, sandy shores just waiting for someone to build some sandcastles and sand structures? Living in oceanfront condos in New Smyrna Beach offers plenty of excellent advantages that make life comfortable and satisfying.
So, whether you want to wake up to the music of the small waves crashing, smell the salt-infused sea air, or even just relax on your balcony watching the beautiful ocean dance, it's easy to see why New Smyrna Beach oceanfront living should be top of your mind. Today we'll be sharing some of the best oceanfront condos New Smyrna Beach offers and the many advantages of oceanfront living.
New Smyrna Beach Oceanfront Living
Just what makes New Smyrna Beach so special? Here are just a few examples of what you can expect out of this refreshing, oceanfront living!
1. The View
Imagine waking up to the gentle music that the ocean sings. You inhale deeply while standing on your balcony, and the deliciously salty ocean air fills your lungs. As you look out, it's astonishing to see the vastness of the water and watch how the sun shines onto the sand, almost making it look like the shore is made of glitter. The waves move slowly in and out, and the sea air seems to be inviting you out. Welcome to living oceanside in New Smyrna Beach! The water stretches out, spreading as far as one can see, and is exceptionally blue, with the sun adding tiny flecks of sparkles, nearly resembling small diamonds.
This is what you can expect when you're living on the New Smyrna Beach oceanfront. The view that residents wake up to every single morning is something so beautiful that it can only exist in your dreams. But welcome to your new reality. The view is brilliant every single day. In fact, it's something you can count on. It's terrific to admire and makes a great backdrop to all your life events. Picture your holiday card, birthday celebrations, or garden parties against the astonishing scenery.
2. Home Value and Investment Potential
The value of New Smyrna Beach oceanfront homes is considerably higher than those in residential neighborhoods. This makes it a solid and safe investment for now and long term. The attractive location makes oceanfront real estate not as affected by the various and ever-changing real estate trends. Even if the property is outdated and needs renovations, since it's on the ocean, it remains of significant value. Though oceanfront properties tend to have higher insurance premiums because of the higher threat from nature, it's offset by the property's true potential.
3. Less Stress
New Smyrna Beach oceanfront living brings a lower stress level. There's a strong correlation between living near water and improved psychological and physical health, and there are plenty of reasons for that. When you live near the ocean, you're living in a multisensory environment.
The smell of the ocean air brings a soft tranquility over a person, while the sight of the perfect blue waters can easily take your breath away. And when you're in one of the many oceanfront condos New Smyrna Beach offers, the combination of all of these sensory experiences results in less stress, lower blood pressure, increased happiness, and improved overall contentment with life. So living near water offers myriad benefits that affect and help overall health and well-being.

4. Delicious, Fresh Seafood
Living on New Smyrna Beach's oceanfront means, hello, fantastic fresh seafood! If you don't already love seafood, we bet that will change once you try it. Seafood is a terrific source of vitamins and minerals and can assist in lowering a person's risk of heart attack and stroke. Furthermore, it's incredible brain food. Several delicious restaurants use freshly caught seafood in their meals, and fresh seafood markets you can visit and purchase your own to take home and enjoy.
Fish/Seafood Markets – New Smyrna Beach
Cedar Creek Shellfish
Oceans' Seafood
Restaurants That Use Freshly Caught Seafood
5. Lots to Do
When you live on the oceanfront, there are endless possibilities of things to do. Oceanfront living gives you everything you need regardless of what type of entertainment you're craving or even if you're looking to just relax and unwind. Picture long walks along the beach, sunbathing on a Saturday afternoon, or something more thrilling such as snorkeling, swimming, and paddleboarding. Because of the terrific landscape, there's no end in sight for the number of recreation residents can enjoy. You might even find new things you enjoy!
Things to Do in New Smyrna Beach
Explore Smyrna Dunes Park.
Visit Sugar Mill Ruins.
Spend time at Apollo Beach.
Wander through Old Fort Park.

6. It's Walkable
New Smyrna Beach is very walkable. There are sidewalks lining nearly all the streets, with plenty of off-shoot paths leading to various locations. So whether you want to walk to a store, to the park, or go for an evening stroll, it's a great town for pedestrians.
7. Improved Sleep
When you live right on the ocean, there's a good chance you'll find that you're sleeping like a log at night. Breathing in the fresh air will improve your sleep as well as the boost in vitamin D from sun exposure and the increase in physical activity. People are more likely to go outside when the outside is gorgeous. Therefore, they're more likely to walk, swim, surf, or participate in other activities. All of these factors, in conjunction, will improve your sleep.
8. Live Where People Vacation
When you live on the ocean, you're living where others pay to enjoy a vacation. This allows plenty of opportunities to meet new people from all over the place! If you're a social bug, this will be a major draw. Additionally, your paradise home in New Smyrna Beach is a little slice of heaven that visitors only get a glimpse of when they come for a stay, while you'll be treated to the glory of oceanfront living every day!
9. The Surfing
Living in New Smyrna Beach means you can ride the waves every single day! And, even if you're not already a pro surfer, there are plenty of resources to help you learn. In fact, New Smyrna Beach is iconic for surfers to visit. The waters dance with gentle movements, offering surfers consistent and reliable waves.
But, of course, if you want to skip literal surfing, you can always watch one of the many surf competitions hosted there. And, living right on the ocean, you'll have front-row seats to all the action.
10. Public Transportation
An oceanfront property in New Smyrna Beach, Florida, offers an easy commute to all nearby amenities. Not only is the ocean town walking-friendly, but it also offers an extensive menu of public transportation options. Locals can choose between riding one of the several bus routes, taxis, and ride-shares. As a result, it's easy to get around and incorporate active living.
11. Increased Happiness
Breathing in that beautiful, fresh ocean-kissed air, soaking in the warm rays, and feeling the soft sugar sand between your toes all lead to overall happiness. Waking up each morning to the wave hello of the ocean, the sound of the water washing onto the sand, and having a dream-like location for a home all support a person's overall happiness. Life, when you're living oceanfront, is a sort of calm, tranquil lifestyle that people typically find improves their mental and physical health.

12. It's Great For the Skin
If you want dewy, healthy-looking skin all the time, then oceanfront living is definitely something to consider. The saltwater from the ocean is packed with minerals that encourage skin elasticity. Furthermore, both sand and salt are natural exfoliants that remove dead skin and assist in the stimulation of new cell growth. When living near the ocean, you can welcome healthy glowy skin!
13. The Real Estate
There are many oceanfront condos New Smyrna Beach has to offer. Choose between a chic condo, a lavish penthouse, quaint single-family homes, or sprawling mansions set right on the water. Whatever kind of real estate you're interested in, you'll find it in New Smyrna Beach.
View All Homes for Sale in New Smyrna Beach, FL >>>
If That's Not Enough to Convince You…
If the above thirteen best things about oceanfront living haven't convinced you, then the weather certainly will. The weather in New Smyrna Beach is pretty much perfect every day. From the incredible selection of real estate to an ideal Florida location, there are seemingly endless reasons to choose New Smyrna Beach oceanfront living!
We provide specialists for every part of the sales process to ensure our customers receive world class service. This team of experienced real estate specialists know the industry, the diverse Florida markets we serve, and our organization well. Our primary focus is always on the buyers and sellers we serve, because we want to ensure your next real estate transaction is as easy as a day at the beach!
VIEW ALL HOMES FOR SALE IN NEW SMYRNA BEACH, FL