The Ultimate Guide To Buying A Home On The Beach
Posted by Heather Scofield on Sunday, May 2, 2021 at 5:35 PM
By Heather Scofield / May 2, 2021
Comment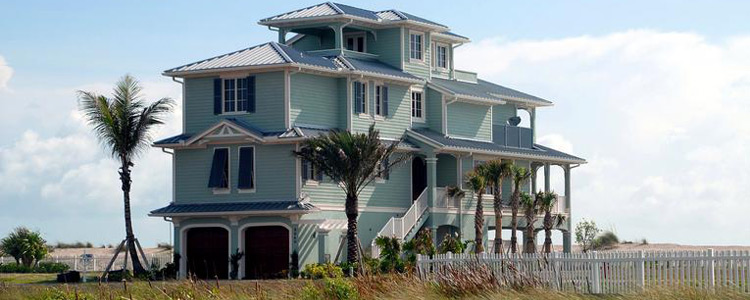 One of the top vacation picks for many North Americans is the beach. Whether you're looking into a daytrip or a lengthy getaway, the beach is the epitome of rest and relaxation. There's an incredible variety of beaches from oceanside paradises to quiet, lakeside retreats to suit all lifestyles. The ultimate way to fully enjoy a beach vacation is to own a home right along the sandy shores.
View All Homes For Sale in Daytona Beach, FL >>>
Buying a home on the beach is a big commitment and for those considering the purchase, the process can seem a tad intimidating. For this very reason, we've put together this handy guide to give you an idea of what it's like to join the beach-dwellers club. Read on to explore the benefits of beach living, the difference between a second home and an investment property, as well as everything you should consider before you take the plunge into purchasing a home on the beach.
Why Buy on the Beach?
There are so many excellent reasons to purchase a home on the beach. Whether you're searching for your dream vacation home, a tranquil place to retire, or an investment property, the beach is the perfect escape from the hustle and bustle of modern living. Some of the benefits of beach living include:
scenic views
recreational opportunities
investment opportunities
retirement opportunities
therapeutic atmosphere
easy and accessible vacation destination
tax deductions
Let's take a deeper look into the fantastic benefits of buying a home on the beach.
Scenic Views: When you think of the beach you instantly picture a glorious set up of sandy terrain, soothing waves crashing along the shoreline, and stunning sunrises and sunsets stretching out over the horizon. What could be better than calling these picturesque views home!
Recreational Opportunities: Many who live along the water take up water-based hobbies. This includes boating, fishing, snorkelling, kayaking, paddle-boarding, and so much more! Recreation opportunities abound when you live on the beach, providing ample opportunity to stay fit and healthy while drinking in all the sights and sounds of a beachside paradise.
Investment Opportunities: If you're looking for a second home along the beach, you'll have the opportunity to rent out the space to vacationers while you're not occupying the space. This option allows for a little extra income to help keep up with the costs of owning two properties. Beachfront homes and condos have a high market value and are incredibly easy to rent out.
Retirement Opportunities: For those searching for the ideal location to spend their retirement years, look no further! What better way to enjoy your hard-earned retirement years than sitting along the beach, soaking up the sunshine, taking in all the beautiful views, and slowing it right down to truly appreciate all that nature has to offer.
Therapeutic Atmosphere: The beach has proven to be a relaxing environment for those of all ages. Something about the crashing of the waves, the beautiful scenery, the sounds of gulls diving in and out of the water, and the extra dose of Vitamin D provides the making of a therapeutic jackpot. Walking along the sand offers natural skin exfoliation, excess sunlight helps to keep depression away and promotes happiness, and the calm atmosphere keeps stress levels down.
Easy and Accessible Vacation Destination: When you own your own beach home, you never have to struggle with choosing a vacation spot; you'll always have instant access to a low-cost getaway. You'll enjoy VIP access to the beach, dodging obnoxious traffic jams, parking fees, and fighting for the perfect beach spot. On top of all that, you'll always have the opportunity for a last-minute vacation with minimal planning.
Tax Deductions: Owning a secondary place of residence is an excellent financial investment. Owning a beach home can actually lead to tax deductions, saving you money on your annual taxes. Typically, to qualify for these deductions, you just need to ensure you reside within the home for a minimum of two weeks per year, a sacrifice that is totally worth it!
Investment VS Second Home: What's the Difference?
If you're one of the lucky ones considering purchasing a beautiful home along the beach, the first thing you need to understand is whether you're purchasing a second home or making an investment.
So what constitutes a second home?
Should be located an appropriate distance from your primary residence. Typically a minimum of fifty miles between the two homes is recommended.
Must be lived in for a portion of the year, generally a minimum of at least two weeks.
Can only generate an income for a maximum of two weeks per year.
Must be fully accessible to the owners, year-round.
If you're looking to purchase an investment home (often referred to as a vacation rental property), keep in mind that you won't be spending all of your time here. To qualify as an investment home, you'll need to generate an income more than two weeks every year. Before you begin the process of finding a beach home, determine how long you plan to stay throughout the year and if you can afford to own two properties at the same time.
Things to Consider
Once you've decided whether you're buying a home strictly for your own family's enjoyment or if you're hoping to make some money off of the property, you're ready to start searching for your dream beach home. After you've met with the bank or a mortgage broker to determine what sort of home you can afford and you've hired a real estate agent who is experienced with beach properties to help you during this process, you have a few more factors to consider.
Location: The general rule of thumb for purchasing a home for your own enjoyment is to find a place between one to three hours away from your primary place of residence. You want to be able to pop out on a weekend to get your beach fix without having to spend an entire day driving. If you're looking for an investment property, you'll want to focus on how desirable the area is, whether it's a popular beach destination, how easy it is to access the home, and what's around that area.
Size: Beach homes come in all shapes and sizes and attract all sorts of lifestyles. Some come in the shape of cozy little cottages, others offer an expansive collection of rooms, perfect for hosting friends and family, and others yet come in the form of trendy, modern condos. Depending on how you plan to spend your time in your beach home, you may want a romantic retreat fit for two or a home with ample space to house all your friends on the weekends. Find the size that is going to best suit your lifestyle.
Costs: There are several costs that you need to consider before you begin your search. These are typical expenses involved in purchasing any real estate and include:
down payment
management fees
maintenance and upkeep
insurance
taxes
furnishings
There are also possible hidden fees that you may not have factored into your original budget. These sneaky expenses can include:
boat and dock fees
septic tank fees
water and sewer rates
lawn maintenance
rural utility fees
Maintenance: On top of hidden costs that come up during a real estate purchase, beach houses in particular can come with surprising maintenance demands, which can not only cost you more money but can also take up more of your vacation time. The benefits of living near the water are phenomenal, but there are also a few downsides. The excess moisture in the air can cause your house to be susceptible to mold or mildew. If your beach home is situated along the ocean, the salty water can cause corrosion over time and will require additional maintenance.
Insurance: The proximity to the water also means that beach homes have a higher risk of damage due to natural occurrences. This includes everything from flooding to strong winds and earthquakes. Because of this, the insurance requirements of a beach home are typically more expensive and complex than that of a standard, land-locked home. You'll want to factor this into your budget along with the standard costs, possible hidden costs, and maintenance and upkeep costs.
Shoreline: It's a good idea to look into the shoreline's history to note any changes over the years. As time goes by, water and dirt will mix in unpredictable ways, potentially causing shifts in the shoreline. This could mean that your beach home will steadily get farther and farther from the water or the water will slowly creep up the beach and closer to your home, threatening damage to your beautiful beach home.
Buying a beach home is an excellent investment whether you're planning to rent it out for some extra cash or simply relax and enjoy your second home. If you're fully prepared for all the costs that come with purchasing a second home and you've sorted out if you're going to need a helping hand to pay for those costs, then you're all set to begin the process of finding the perfect beach home. With the proper research and a helpful realtor to guide you, this potentially overwhelming process can be an incredibly exciting and enjoyable experience. There's no better feeling than finding that sweet home that perfectly suits your personality and lifestyle. Except maybe living out your best life in that picturesque home! After a lengthy process of researching, touring, and decision-making, basking in the many benefits of a beautiful beach home makes it all worth it!