The Ultimate Guide To Selling Your House In Daytona Beach, FL
Posted by Asterisk Marketing on Friday, September 29, 2023 at 3:23:32 AM
By Asterisk Marketing / September 29, 2023
Comment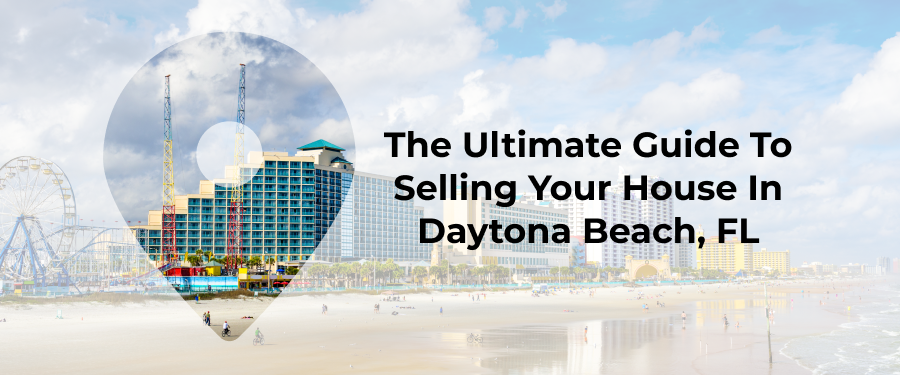 Nestled along the pristine shores of the Atlantic Ocean, Daytona Beach, Florida, has long been celebrated for its sun-kissed beaches and a rich history deeply intertwined with high-speed automobile testing and racing. As the birthplace of speed, this coastal resort city has not only lured racing enthusiasts but also homeowners looking to sell their properties in this idyllic location. If you're considering selling your house in Daytona Beach, you've come to the right place.
In "The Ultimate Guide To Selling Your House In Daytona Beach, FL," we'll explore valuable tips and insights to help you navigate the real estate market in this iconic Florida city. Whether you're a first-time seller or a seasoned pro, this guide will equip you with the knowledge and strategies needed to make a successful sale in this unique and dynamic market.
Step By Step Guide To Selling Your Home In Daytona Beach
First let's dive into a step-by-step guide to selling your home in Daytona Beach. Be sure to read through these steps to get an understanding of the whole selling process, then dive into the FAQs to get more into the intricacies of it.
Preparing Your House for Sale
Preparing your house for sale in Daytona Beach, FL is significant for several reasons. Firstly, home staging specific to the Daytona Beach area can enhance the appeal of your property to potential buyers by highlighting its unique coastal features, such as its proximity to the beach or the allure of outdoor living spaces.
Secondly, addressing necessary repairs and renovations ensures that your home is in the best possible condition, increasing its market value and reducing the likelihood of potential buyers being deterred by needed fixes.
Lastly, setting the right asking price is vital to attract serious buyers and compete effectively in the local real estate market, as overpricing can lead to extended listing periods and missed opportunities. Overall, thorough preparation sets the stage for a successful and efficient home sale in Daytona Beach, FL.
Finding A Local Real Estate Agent
Hiring a local real estate agent is essential when selling your home in Daytona Beach, FL because they possess valuable insights into the area's unique market conditions, pricing trends, and neighborhood dynamics. Their local expertise allows for more accurate pricing and effective marketing strategies tailored to the region.
To select the right real estate professional for your Daytona Beach home sale, focus on their experience, track record, and familiarity with the local market. Consider factors like their success in similar transactions, their marketing techniques, and their ability to effectively negotiate on your behalf. This ensures you have a knowledgeable ally who can maximize your home's selling potential in this specific market.

Price Your Daytona Beach Property
Now this can be a tricky part of selling your house in Daytona Beach, FL. Finding the right price is key for attracting buyers and negotiating a lucrative sale. To accurately set this figure, it's essential to obtain a professional appraisal of your property – preferably one from a qualified local appraiser familiar with the area's nuances like pricing trends and market conditions. Accurate pricing not only helps attract serious buyers but also helps you to negotiate effectively during the sale.
Marketing Your Property
Proper marketing is one of the most important steps to selling your Daytona Beach home. Listed below are three effective strategies that will help you stand out from the competition:
Creating an appealing listing: An attractive listing with high-quality photos and compelling descriptions grabs the attention of potential buyers and sets a positive first impression.
Utilizing online platforms and social media: Online listings and social media platforms have become primary sources for home buyers. Leveraging these channels ensures your property reaches a vast audience and stays competitive in the digital age.
Traditional marketing strategies: Time-tested methods like open houses, yard signs, and brochures help capture the interest of local buyers and complement your online efforts, creating a well-rounded marketing approach for your Daytona Beach property.
Navigating The Sales Process
Navigating the intricacies of the sale process in beautiful Daytona Beach, FL is crucial for a successful transaction, and here's why it matters. Skillfully managing negotiations and offers is like charting a course through shifting tides, where adept negotiation can secure the best possible terms for your property.
As you continue along this journey, home inspections become the lighthouse, illuminating potential issues that must be addressed to ensure a seamless experience. Finally, comprehending the details of contracts and paperwork is essential for a smooth sail, as it ensures a clear understanding of the transaction's terms and safeguards your interests throughout the process.
Closing The Deal
Closing the deal on your Daytona Beach property is the culmination of your real estate journey, and it's a pivotal step in the process. Understanding the specifics of the closing process in Daytona Beach is essential.
This involves ensuring that all necessary paperwork is in order, and any outstanding contingencies are met. Additionally, preparing for the final walk-through is crucial as it allows both the buyer and seller to verify that the property's condition aligns with the agreed-upon terms.
On the highly anticipated closing day, expect to gather with various parties involved, including real estate agents, attorneys, and possibly the lender, to finalize the sale. During this meeting, the transfer of ownership is completed, the funds are distributed accordingly and the closing process is complete.
FAQ About Selling Your Home In Daytona Beach, FL

Before we dive into the tips and strategies, let's provide some answers to frequently asked questions about selling a home in Daytona Beach:
Q. How long does it take to sell a house in Daytona Beach?
A. The amount of time it takes to sell your home depends on several factors such as market conditions, location, and amenities offered with the property. Generally speaking, homes in Daytona Beach tend to sell fairly quickly due to the area's popularity and competitive real estate market. It is best to work with a skilled real estate agent who is knowledgeable about your area to get an accurate timeline as it can vary.
Q. Are there any state laws to be aware of in FL?
A. Yes, there are specific state laws and regulations in Florida that sellers should be aware of when selling their house. These include requirements to disclose environmental hazards like lead-based paint, asbestos, mold, and radon gas. Additionally, sellers must provide a Florida Energy-Efficiency Rating Information Brochure, verify property elevation, and assess the need for flood insurance. Depending on your real estate agent or brokerage, there may be additional protective addendums to consider during the transaction.
Q. What is the typical closing cost for selling a home in FL?
A. In Florida, the typical closing costs for a home purchase generally range from 5% to 10% of the purchase price. It's important to note that these costs are typically shared between the seller and the buyer, with each party responsible for their respective portion.
Q. What taxes are paid for selling your home in FL?
A. When selling a home in Florida, there is no state-level capital gains tax to pay. However, sellers may be subject to federal capital gains tax on any profit from the sale, with the amount determined by factors such as the duration of ownership and taxable income. Consulting a tax professional is advisable to understand the specific federal capital gains tax liability and any potential deductions or exemptions.
Moving On
Moving on after successfully selling your home in Daytona Beach, FL is a momentous transition, and here's how to ensure it's a smooth and celebratory process. First and foremost, consider these tips for a seamless transition to your next chapter: organize your move well in advance, notify relevant parties of your change in address, and hire professional movers if needed.

Secondly, celebrate your victorious sale and the memories made in your Daytona Beach home. Whether it's a small gathering with friends and family or a moment of quiet reflection by the beach, acknowledging this achievement can help you embrace the excitement of what lies ahead in your new journey.
If you want to sell your home in Daytona Beach, FL following these steps can help make the process as stress-free and rewarding as possible. By arming yourself with the proper knowledge and forming a strategy tailored to this market, you can ensure success in your real estate venture. With the right preparation and dedication, now is a fantastic time to consider putting your Daytona Beach home on the market.
We provide specialists for every part of the sales process to ensure our customers receive world class service. This team of experienced real estate specialists know the industry, the diverse Florida markets we serve, and our organization well. Our primary focus is always on the buyers and sellers we serve, because we want to ensure your next real estate transaction is as easy as a day at the beach!