The Ultimate Guide to High Schools in Daytona Beach [2022 Edition]
Posted by Heather Scofield on Sunday, May 2, 2021 at 5:47 PM
By Heather Scofield / May 2, 2021
Comment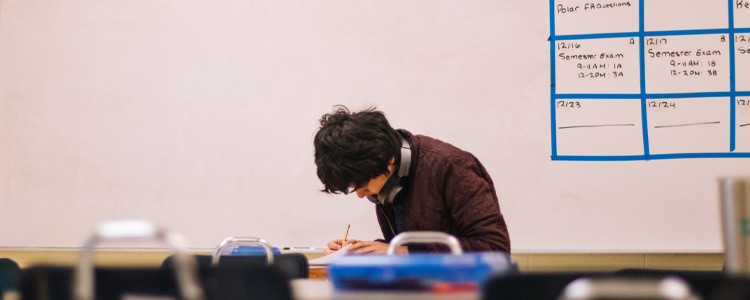 Daytona Beach, Florida, is a beautiful city located in Volusia County. Nestled along Florida's Atlantic coast, the city has a population of just over 67,000 residents, many of which are high school-aged children.
View All Homes For Sale in Daytona Beach, FL >>>
A strong performance both academically or through extracurricular programs can have a lasting impact on students' lives. Thankfully, Daytona Beach is home to a number of well-rated schools which offer excellent education and enrichment options for students of the city.
Public education in Daytona Beach is governed by the Volusia County School District. The well-rated district is home to six elementary schools, two middle schools and two traditional public high schools. There is also a private high school located in Daytona Beach, Father Lopez Catholic High School.
Below is a list of the high schools families are able to choose from in Daytona Beach, Florida.
Spruce Creek High School

801 Taylor Road, Port Orange, FL
Phone: (386)322-6272
Spruce Creek High School
Originally opening its doors to students of Volusia County in 1975, Spruce Creek High School is a top-ranking school in the district. A comprehensive high school, Spruce Creek offers education for students from grades 9 - 12.
Located in Port Orange, Spruce Creek is the largest IB high school in North America. The high achieving school has been named a Blue Ribbon School of Excellence several years in a row. Spruce Creek also received recognition for the number of IB exams administered, ranking 1st in North America and 3rd in the world.
Spruce Creek High consistently ranks as one of Newsweek's Top 100 High Schools in America, making it an extremely popular choice for students from around the area as well as the world. There are nearly 2,500 students who attend Spruce Creek annually, which has an average teacher to student of 1 to 25.
Having a long-standing tradition of academic excellence, Spruce Creek is known for its renowned programs such as its IB Program, Academy of Finance, Academy of Information Technology and Robotics and its Business-Cooperative Program.
The Spruce Creek Musical Performing Arts department has been the recipient of multiple awards and recognitions over the years. From trips worldwide to political inaugurations, the bands, orchestras and choirs impress crowds all over.
Though the main focus remains academics, Spruce Creek is also home to an impressive Athletic Department. Students are able to participate on teams for a variety of sports which include:
Basketball
Volleyball
Football
Golf
Soccer
Softball
Swimming
Tennis
Students who attend Spruce Creek enjoy the wide variety of clubs and groups which are offered at the school. From National Honor Societies to common-interest groups, these clubs provide a space for like-minded students to congregate and explore their interests. A few clubs offered at Spruce Creek are:
Future Veterinarians of Florida
French Club
National Honor Society
Students for Environmental Awareness
Model United Nations
Theatre Club
Yearbook
View All Homes For Sale Near Spruce Creek High School >>>
Atlantic High School

1250 Reed Canal Road, Port Orange, FL
Phone: (386)322-6100
Atlantic High School
Established in 1994, Atlantic High School falls under the Volusia County School district and is located in Port Orange, Florida. The highly-rated high school welcomes approximately 1,500 students annually from grades 9 through 12.
An early example of the "Wall-to-Wall Academy" model in Florida, Atlantic High School is an attractive option due to its wide variety of Career and Technical Education Academies. There are nine Career Academies under three umbrellas:
Public Service and Marketing
Academy of Law and Government (Gold Seal Academy)
Teaching, Education and Learning
Marketing and Promotions
Science and Technology
Gaming and Simulations
Technology, Engineering, Science, and Aeronautics
Aquaculture, Environmental, and Marine Science Academy
Entertainment
On Stage (previously known as CAPA)
Digital Video
Digital Audio and Recording Technology
These Academies offer students a unique educational experience where they are exposed to desired areas of study through field trips, guest speakers, and hands-on experiences. Students who complete an approved academy may even be eligible to receive the Florida Gold Seal Vocational Scholars Award.
Outside of the rigorous academic programs offered at Atlantic High School are a vast number of athletic options. Students enjoy the many interscholastic sports teams, which include:
Cross Country
Football
Golf
Volleyball
Swimming
Softball
Basketball
To completely round out student life, Atlantic High School features a handful of clubs and activities which allow like-minded students to come together and pursue common goals. Popular options are:
Academic Team
Art Club
Band
Dance
Drama/Thespian
Shark Pride Club
National Honor Society
Winner's Circle
View All Homes For Sale Near Atlantic High School >>>
Seabreeze High School
2700 N Oleander Ave, Daytona Beach, FL
Phone: (386)258-4674
Seabreeze High School
Seabreeze High School first opened its doors to the city of Daytona Beach in 1908. There are roughly 1,600 students who attend the well-ranked high school. Welcoming students from grade 9 through 12, Seabreeze offers a number of courses, programs and classes to choose from.
Students attending Seabreeze High School achieve above-average grades when compared to the rest of that state. At least 59% of students are proficient in reading, while 65% are proficient in mathematics.
Seabreeze High School students have a 4-year high school graduation rate of 89%, which is on par with the state average. Many students who graduate from Seabreeze High go on to attend a 4-year university and 2-year colleges such as the University of Central Florida, University of Florida and Florida State University. When compared to State averages, students attending Seabreeze have above-average college enrollment rates.
At Seabreeze High School, students are able to apply for the AVID program, which is an acronym for Advancement Via Individual Determination. This program was designed as an aid to help low-income or struggling students who wish to go on to college succeed.
Dual enrollment is also an option for students attending Seabreeze. This program allows students to enroll in college courses at a high school level. The benefits of this program include free courses, free textbooks and learning material and readiness for college after graduation.
Along with an excellent curriculum, students at Seabreeze High School are offered a wide selection of extracurricular and enrichment activities. Sports, arts, social clubs and more are popular throughout the school and promote personal and social growth and development. Some of the activities and clubs offered at Seabreeze include:
American Sign Language Club
American Music Theater
Band
Center Stage
Cheerleading
Chorus
Gay Straight Alliance
Chess Club
Debate Club
Medical Teens of America
Yearbook
Sports also play a big part in life at Seabreeze. The Athletic Department at Seabreeze encourages participation in sports programs as a way to develop skills such as leadership and mutual respect. Sports teams at Seabreeze include:
Bowling
Cross Country (Varsity and Junior Varsity)
Golf (Boys and Girls)
Swimming
Volleyball
Basketball (Boys and Girls)
Soccer (Boys and Girls)
Weightlifting (Boys and Girls)
Wrestling
Baseball (Varsity and Junior Varsity)
Flag Football
Softball (Boys and Girls)
Track and Field
View All Homes For Sale Near Seabreeze High School >>>
Mainland High School
1255 W International Speedway Blvd, Daytona Beach, FL
Phone: (386)258-4665
Mainland High School
Mainland is a public high school located in Daytona Beach, Florida, which was opened in the fall of 1872. This historic school has been educating area teens for nearly 150 years. Currently, there are just under 1,900 students who attend Mainland High School from grades 9 through grade 12.
Known initially as Daytona Public School, Mainland School was opened in 1872 as an all-ages school. After moving locations throughout the years, the school moved to a permanent building in 1910. Two years later, Daytona Public School offered its first sports program. In 1925 the school moved again to a campus on third avenue. At this time, there were roughly 400 students who attend the school. In the fall of 1946, Daytona Public School became Mainland High School and later moved locations, this time to a site at the intersection of International Speedway Blvd and Clyde Morris Blvd.
The current campus of Mainland High School now faces International Speedway Blvd and has gone back to a centralized layout as air conditioning and airflow are no longer a concern. There are five buildings which surround a large courtyard.
Along with the standard curriculum offered at Mainland High School, there are a number of academies students can also choose from. These unique programs of study allow students to focus their education on a specific subject. Mainland offers five different academies, which include:
The Academy of Science and Medicine (ASM):
ASM is Mainlands largest academy. Students participating in this academy are required to take two additional math courses as well as five extra science courses.
The Academy of Communications and Multimedia Technology (ACMT)
Students enrolled in the Academy of Communications and Multimedia Technology will take courses which focus on computer-related subjects such as network design and maintenance, web design, yearbook production and television production.
The Academy of Drafting and Manufacturing Technology (ADMT)
The technology-rich Academy of Drafting and Manufacturing Technology has students enrolled in courses which include interior design, electronics, architecture, engineering, manufacturing, computer-aided manufacturing, and construction. Some of the technologies students will learn how to use include AutoCAD, Inventor Pro, and milling and CNC machines.
The Sports Science Academy (SSA)
A popular Acaemcy, Sports Science, will have students learning about everything sports-related besides the athletic portion. Courses include basic fundamentals such as FirstAid, medical care, athletic training and sports administration.
The Academy of Simulations and Robotics (ASR)
First debuted in the school during the 2007-2008 year, the Academy of Simulations and Robotics offers courses related to robotics, video game design and programming, and all things computer science. Students will also learn programs such as JAVA and RUBY.
Though Mainland High School places a heavy emphasis on academic excellence, the school also encourages students to participate in the many clubs, activities and sports teams offered. Currently, Mainland High School offers the following sports teams:
Baseball
Bowling
Golf
Basketball
Cross Country
Swimming
Tennis
Track & Field
Wrestling
Weightlifting
Softball
Soccer
Football
Flag Football
Volleyball
Clubs and activities are also popular options for students to organize and participate in. Some of the examples of clubs offered at Mainland High School are:
Drama
National Honors Society
Gay Straight Alliance
Chess Club
Jazz Band
Future Farmers of America
View All Homes For Sale Near Mainland High School >>>
Father Lopez Catholic High School
3918 LPGA Blvd, Daytona Beach, FL
Phone: (386)253-5213
Father Lopez High School
Father Lopez Catholic High School has been offered faith-based education to high school students in Daytona Beach since it opened its doors in 1959. Located in the Roman Catholic Diocese of Orlando, there are approximately 500 students who attend Father Lopez Catholic High from grade 9 to grade 12.
Currently located in LGPA Blvd., Father Lopez Catholic moved to the campus from Madison Avenue in 2008. The new school is roughly 3 miles from its previous location; however now features a football field with track, baseball fields, softball fields, tennis courts and practice fields. There is also a Spanish-style chapel that seats 100 guests and a sports stadium that seats 1,200.
It's not only students from Daytona Beach who attend Father Lopez Catholic School but from around 36 different zip codes throughout the area. Students hail from Valusia, Flager and Seminole County.
Father Lopez Catholic School follows the standard curriculum which is offered in public high schools throughout the state. The school also offers AP Courses which students can choose to take, such:
AP Calculus
AP Language & Composition
AP Literature & Composition
AP French
AP Government
AP Physics
AP United States History
AP Spanish
AP Psychology
AP Art
Along with a focus on academics, the school also celebrates its student's gifts and abilities through arts, sports, and a variety of groups and clubs. Students enjoy an exciting social life at Father Lopez Catholic School, which includes options such as:
Art Club
Drama Club
Ministry Club
Science Club
Written Expression Club
The school is also proudly home to a wide range of honor societies that recognize the excellence of students throughout the school. Societies available at Father Lopez Catholic School are:
Dance Honor Society
French Honor Society
International Thespian Society
Math Honor Society
National Art Society
National Honor Society
Spanish Honor Society
Father Lopez Catholic High School students have received many recognitions over the years for their involvement in sports. The school fields 32 different teams playing 13 sports which include basketball, baseball, football, volleyball and more. In 2005 and 2013, the girl's basketball teams were State Champions, and in 2015 the boy's track and field teams were State champs.
There are additional considerations to be made when deciding to enroll your student at Father Lopez. As a private school, families are required to pay tuition for attending students, which varies depending on whether or not a family is a contributing member of the diocese of Orlando.
View All Homes For Sale Near Father Lopez Catholic High School >>>
Regardless of which school you and your child decide on, one can be confident your student will be receiving exceptional education. Along with a rigorous curriculum, students attending any school in Daytona Beach will also enjoy an exciting and thrilling personal and social life.