Work From Home: 5 Tips For Ultimate Productivity
Posted by Heather Scofield on Monday, July 5, 2021 at 7:12 PM
By Heather Scofield / July 5, 2021
Comment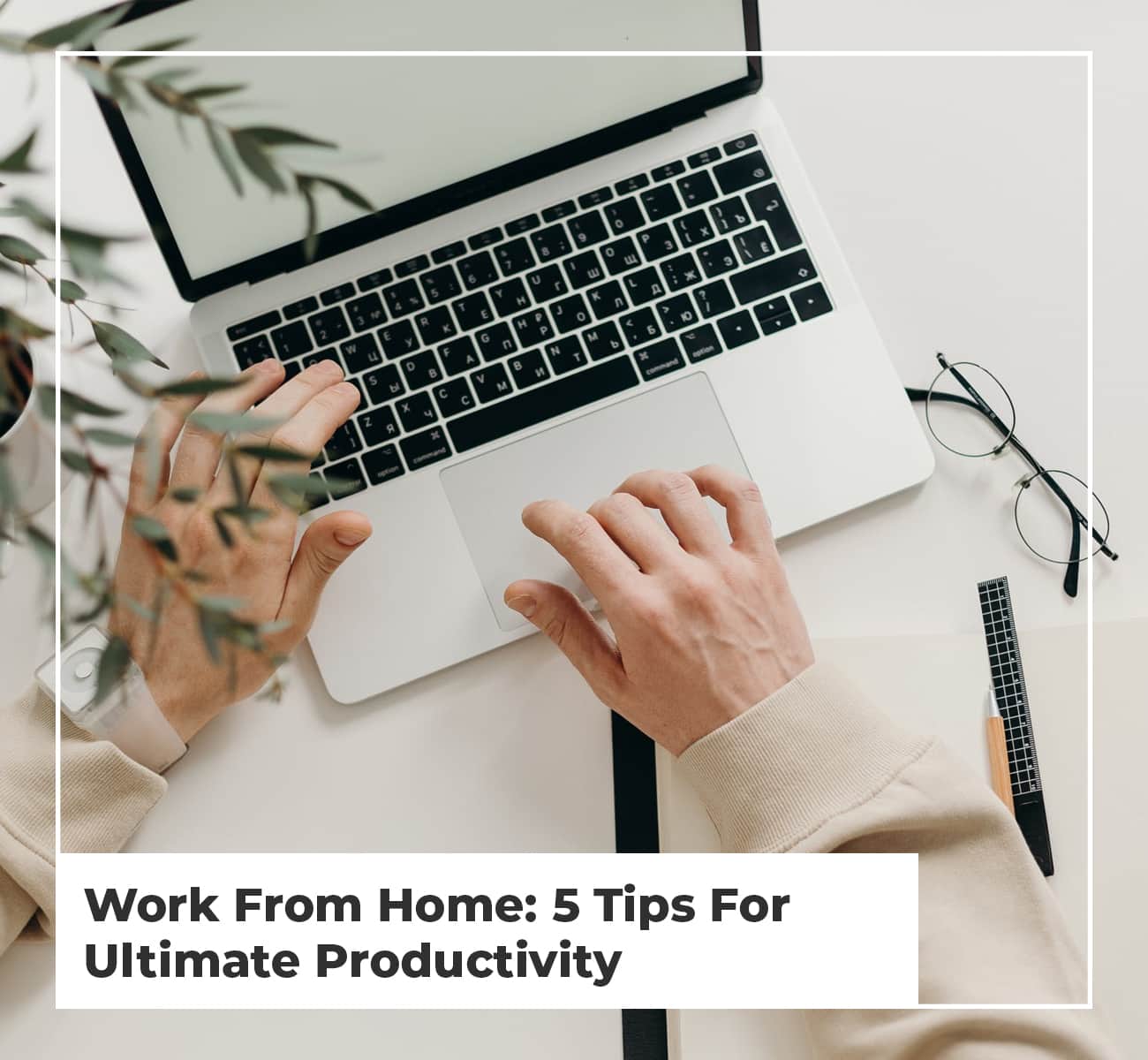 Working from home has become the norm for many people in the last few years. It can be easy to fall into unhealthy habits that might interfere with the work you're supposed to be doing. Here are a few great ideas to keep your productivity up.
Develop a routine
Keeping a schedule for yourself is a great way to stay productive. Staying on track prevents burnout and keeps you focused. Maintaining a routine similar to your in-person job will train your body and mind to follow the same routine.
Break at the same time, eat lunch at the same time, and end your workday at the same time. Whenever you encounter a change in your new routine, find an alternative to replace it.
You might not need as much time to get dressed, or you might have left a little earlier to commute when you worked in your office. Spend that extra time tidying up your workspace for the day. The task helps you to focus on the fact that you're about to go to work.

Another way to keep a routine is by using a power list. This is a list of your 3-5 most important tasks of the day. These should be things that are not daily habits like brushing your teeth. Some examples would be to send an important email, finish two assignments, and organize the files on your computer.
Although you might have other tasks for the day or meetings to attend, carving out the time to accomplish everything on the list will give you a great sense of accomplishment.
Upgrade your seating
You might not have planned to be seated for eight hours a day at home, so you should find a chair that will provide you with the best support possible. You should be seated in a place with limited distractions, so a comfortable couch in your living room might not be the best choice.
If you prefer sitting, you should consider getting a chair with a cushion. They come in a wide variety of styles so you can find one that suits you.
You may also want to consider a standing desk. A number of health benefits are attributed to standing desks, including lowering the risk of heart disease, helping ease back pain, and promoting digestion.
When you don't want to be on your feet all day but still want to get some health benefits, then consider upgrading to an exercise bike seat. Providing an additional health-conscious option for standing desks, they fit well with height-adjustable desks.
Be aware of your space
As I mentioned, a cozy living room spot might not be the best for your productivity. You need to create a space away from distractions or find a way to hide them if you want to avoid them.
Ensure that all of your senses are stimulated to remain focused during the workday.
To avoid being distracted by the movie your roommate is watching, try an inexpensive room divider in a small space you need to share.
If you need to block out sounds from outside, use headphones or a small white noise machine nearby.

It is also important to consider your lighting. Be sure the lighting is not too bright or too dim to avoid developing eye strain. In terms of taste and smell, make sure you have a keyboard-friendly snack ready for when you start so you won't have to get up every fifteen minutes to just look in the cabinets.
Schedule breaks for yourself
It is very important to give yourself a break. Making time for yourself, no matter how long or short, relieves anxiety and prevents burnout. A difficult aspect of this is actually sticking to the breaks and not letting them become work-related.
A break should consist of you in a separate area from your workspace and focused on anything except work. Even though it seems obvious, if you're checking work emails on your phone while you eat a snack, you're not taking a break.
Furthermore, studies have shown that they keep us focused and enable us to retain information. Learning new things over time gives our brain a benchmark for when it was learned, so it can store it faster. Taking a break doesn't mean you can't think about work.
Studies have also shown that we are able to solve problems better at these times. It's called diffuse mode thinking and it's the reason you get your best ideas in the shower.
Put your phone away and reward yourself for it
It is best to keep your phone in a different room unless you need it urgently and have no options for rerouting texts to your computer screen. There are many ways to get the message or email you need on your computer screen instead.
Try putting all the apps you are allowing yourself to use on one screen of your phone if you need to keep it nearby. It's not going to feel necessary for you to click on that little red notification dot if you don't see it right away. This may not work for you, in which case you can turn notifications off manually in the settings. Facebook probably won't have anything worth looking at until your lunch break.
Speaking of your lunch break, make sure to reward yourself if you achieved your goals. Consider a nice take-out meal or rent a movie to celebrate a successful day. If you have something you can work towards and look forward to immediately then your day will go so much faster.

Keeping your mind and body focused on the task at hand is key to keeping your work and home separate. Your home might not be the same as a regular office but if you keep yourself in work mode, you can keep your productivity high and help yourself stay healthy. This might be a difficult thing to get used to but if you have everything in place to make it a success then it will be easy to keep up.
We provide specialists for every part of the sales process to ensure our customers receive world class service. This team of experienced real estate specialists know the industry, the diverse Florida markets we serve, and our organization well. Our primary focus is always on the buyers and sellers we serve, because we want to ensure your next real estate transaction is as easy as a day at the beach!