Daytona Beach, FL Condos for Sale
Search Condo properties for sale in Daytona Beach, Florida! Condo developments in Daytona Beach are next to none, with sweeping views of the beautiful Atlantic ocean, offering residents a resort-like lifestyle with the many onsite activities included. Many condos in Daytona Beach have stunning views of the city's bright skyline with a vibrant life rich with amenities and activities. For more information on Condos for sale in Daytona Beach, schedule a showing, call us today or send us an email.
Jump To: Daytona Beach Listings | Daytona Beach Info | Contact Us | Create An Account
Condos For Sale in Daytona Beach, FL
Daytona Beach Condo Complexes
Daytona Beach, FL Condos Listings
September 29, 2023
Daytona Beach, FL Condos Listings
by Price
Looking to buy a condo in Daytona Beach?
Let us do the heavy lifting & find the perfect condo for you. Just fill out the form below and we will be in touch shortly!
Rather speak with a local Daytona Beach real estate agent on the phone instead? Give us a call at
(386) 871-7697
for a free consultation. We look forward to helping you find the perfect condo!
Condos For Sale in Daytona Beach, Florida
Finding a simple to a luxurious condo in Daytona Beach, Florida, will never be an issue, with the dozens of lavish condominiums boasting thousands of unique units packed into a stunning 5.5 mile stretch of Atlantic coastline. Potential homeowners will be able to find something fit for all their needs. The condos available in Daytona Beach range from high-rises offering sweeping luxury throughout the massive square footages to a cascade of direct oceanfront of breathtaking views. There are plenty of opportunities for raising the standard of your lifestyle with a variety of floor plan options and affordability.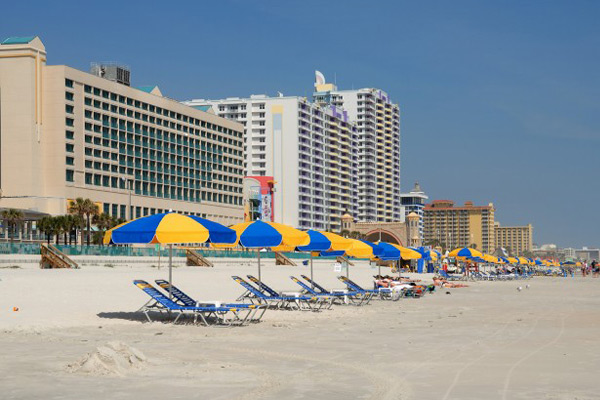 Daytona Beach has so much to offer from shopping conveniences, including a Publix Supermarket centrally located in Daytona Beach residents can enjoy a clean, friendly shopping experience. For residents situated close to the neighborhood markets will find an incredible pastry shop and store, as well as the freshest produce and the entirety of your staple necessities. Regardless of which condo you call home along the oceanfront of Daytona Beach, you can have confidence that accommodations are around the corner.
Besides shopping, fishing and boating the top three popular pursuits in Florida. The city is an ideal location to live for anglers and boating enthusiasts as most Daytona Beach homes are located directly oceanfront or along the Intracoastal waterway. Many luxury condo options in Daytona Beach Shores offer boat slips or private docks for added conveniences to the residents. There is nowhere in the city that is not highly accessible to all your boating and fishing needs.
Many of the snowbird or retiree residents come to spend their winters here for the area's exceptional golfing available. Enjoy the laid-back lifestyle that offers many Daytona Beach residents golfing opportunities within walking distance of most area condos. Many of the courses are well-maintained and open year-round. Daytona Beach sure did a good job when packing in the best natural beauty alongside many recreational facilities in the several local parks.
Living a lifestyle in Daytona Beach means living a healthy, active lifestyle. Enjoy walking, running, and biking along the 5.5 miles of beautiful Atlantic coastline. Step outside your condo and set off with a brisk jog at sunrise or a casual stroll with a loved one at sunset. Lastly, residents can eat well at the dining spots and restaurants available within steps of all the condos through Daytona Beach. Daytona Beach Shores has a plentiful menu for great dining options, from hole-in-the-wall breakfast joints to delicious fresh seafood options to high-end cuisine.
The condos in the city provide more spacious views and easier access to all the resident homes. In Daytona Beach, you will track down a friendly dynamic environment where residents can get to know one another outside or at local facility centers. There are no schools or manufacturing businesses in Daytona Beach, which means low traffic giving residents of the community serenity. If you are looking for a place that feels like home, look no further than a Daytona Beach condos. You can enjoy the relaxation of oceanfront living or choose an active lifestyle in an intimate suburban condominium community.
An average condo in Daytona Beach, including 1 to 3 bedrooms, can be found starting between $80K to $300K, whereas a luxury condo can be located between the high $150K to $700K depending on the amenities, size, and location of the property.
Daytona Beach, Florida, Condos For Sale, Real Estate Market Daytona Beach
There are various condos to choose from when deciding to invest, including size, location, and amenities. Some condos found through Daytona Beach include oceanfront condos, luxury condos, riverfront condos, resort-like style condos, and much more!
Oceanfront condos available to potential buyers could include 2 to 4 bedroom condos with up to 4,400 square feet of living space. Many units have a spacious open residence with two private balconies overlooking the beautiful Atlantic ocean and an open concept family room facing the Intracoastal Waterway. The entirety of this settled quaint and calm city of Daytona Beach. The serene appeal will quickly ship you to the way of life you are looking for. This all sits on a lush barrier island midway between the beautiful Atlantic Ocean and the flowing Halifax River. The sunrise and sunsets are magnificent from the oceanfront homes as the sunbeams of the sparkling waters. Oceanfront condos range dramatically in price, and an average condo can be found priced between $100k to $900K, whereas a high-end luxury condo can be located priced between $300K to well over $1 million.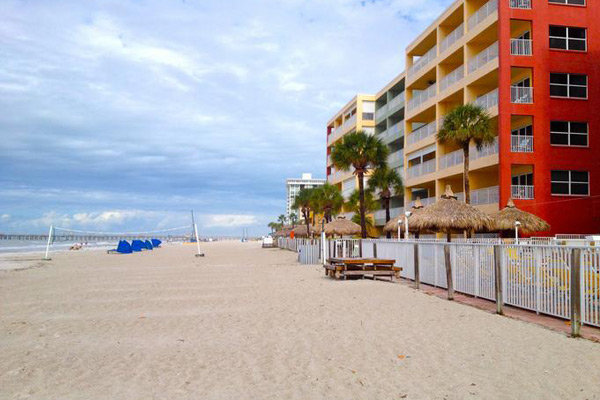 Some newer condos built in the past ten years are considered Ocean Vistas, which offer the highest standard in luxurious amenities in Daytona Beach condos. All of these units exceed 2,000 square feet of living space, and many have features such as private entrances, safety, and security, both through storm-fortified structures and window fittings, as well as privacy gates and private security personnel. With much of the Daytona Beach condo availability, the sky's the limit as you begin to explore making Daytona Beach a home.
Other styles of condos include penthouses, a real estate luxury as it represents the highest quality and usually most lavishly designed condo building. These properties don't come often, and for a good reason, as owners enjoy the lap of luxury. Even older Daytona Beach area condo buildings with smaller square footages and more basic amenities may have a penthouse that surpasses your wildest living expectations.
A Mediterranean-style condo offers a large open condominium floor plan with a new era of luxury and sophistication along the Atlantic coastline. Many of these units feature real wood cabinetry, granite countertops, and many custom additions. There are two to four-bedroom units to choose from but only three with direct oceanfront views. A typical Mediterranean-style condo can be found starting in the $200KS, inviting you to live your most lavish European-style dream right in the comfort of your home in the beautiful city of Daytona Beach.
Besides, another choice that is attractive to potential buyers is resort-like condo buildings. Located in beautiful Daytona Beach, prospective buyers can find a spacious resort-like condo with an ideal beachfront location close to all the action, packed with full modern amenities and plenty of activities for both children and adults. Many of these buildings will have indoor and outdoor pools, play areas and baby pools for the kids, a lazy river, a water slide, and a bar overlooking Daytona Beach for adults. Take advantage of the age-friendly activities, from volleyball and miniature golf to pool tables, gift shop, and game room. From a 24-hour front desk to a state-of-the-art fitness center, the resort-like style condo buildings offer everything the modern family needs.
Though there are an array of options to choose from in Daytona Beach, a condo is sure to have something fit for singles, couples, young families, first-time home buyers, investors, snowbirds, to retirees. Whatever your desires, needs, and wants on your list, Daytona Beach condos are sure to impress!
Surrounding Areas with Condos for sale in Daytona Beach, Florida
The three largest, closest cities near Daytona Beach include Orlando 51 miles away, Jacksonville 86 miles, and Tampa 123 miles away. In these desirable cities, the real estate market for condos is highly sought after and has many available options.
Orlando
Orlando, Florida, has many benefits when it comes to buying a condo here. Many of the condos found in Orlando are primarily found in the downtown area. People love the lifestyle that sunny Florida offers, but that's not the only benefit living in Orlando has to show. Since Orlando isn't local to the beaches without driving a few hours, the luxurious amenities make up for the salty waters. Condos in Orlando often have swimming pools, a clubhouse where you can host parties and get-togethers, outdoor barbecuing areas, sports courts, and much more. These amenities are paid for by the condo fees that the residents pay. Some condos may also include an outdoor bar, yoga studio, catering kitchen, guest suites, and lounge areas; it all depends on the unit you choose. A condo for sale in Orlando can typically be found starting in the $160K and up.
Jacksonville
Condos for sale in Jacksonville, Florida, lie on the banks of the St. Johns River, 25 miles south of the Georgia-Florida border and 140 miles from the nearest large city, Orlando. Jacksonville has a high populated area with more than 890,000 residents. Unlike many large cities, Jacksonville's cost of living is relatively low, including various affordable condos. The city of Jacksonville has more than 500 neighborhoods, from vibrant urban areas to quiet rural suburbs. Many potential buyers look near the beaches for a condo in Jacksonville. A condo for sale in Jacksonville, Florida, can typically be found ranging between $105K to $240K depending on the building's size, location, and age.
Tampa
Situated on Tampa Bay on Florida's west coast, Tampa lies near the Gulf of Mexico, one of the largest metropolitan areas. Tampa has an estimated population of over 385,000 people, while over 4 million people reside in the Greater Tampa area. The booming city continues to grow at an impressive rate, with singles, couples, and families drawn to work opportunities in the area. Areas of the city that include condo housing options include South Tampa, famous for its waterfront community and urban vibe. Neighborhoods within this area include Bayshore, historic Hyde Park, Ballast Point, Davis Island, SoHo, Port Tampa, and MacDill Air Force Base. Condos here can be expensive, but you'll be within walking distance of parks, restaurants, and boutiques.
Living here is ideal if you want a short commute to downtown Tampa which boasts an impressive skyline with buildings and high-rises that rise over 250 feet high. Downtown offers upscale condos, complete with luxury building amenities. It is a good choice for affordable and convenient housing locations in Tampa. In the Channelside District, you'll have a pick from high-rise condos in this charming neighborhood. Lastly, North Tampa extends from The University of South Florida Tampa Campus to the Tampa International Airport. Housing options here include apartments, townhomes, and stand-alone homes but, most importantly, condos that range in price.
The condo options available in nearby cities to Daytona Beach are sure to be the next best real estate option next to Daytona! A lifestyle in a condo gives residents a relaxed lifestyle without having to worry about everyday maintenance and can lay back and enjoy the Florida sunshine.
Why buy Condos with Wyse Home Team Realty Real Estate
Wyse Home Team Realty provides guidance and assistance to all our sellers and buyers in the market, purchasing a condo for the right price or selling under the best terms. Our real estate team thrives on meeting our client's needs and financial abilities to propose solutions that best suit them. Wye Home Team Realty goes above and beyond to promote sales through advertisements, open houses, and listing services. The whole team at Wye Team Realty remains knowledgeable about current real estate markets and the best practices making us the best options to purchase your condo home today!
Jump back to Daytona Beach, FL Condos Listings >>>
View All Daytona Beach Homes For Sale By Feature