Daytona Beach, FL Commercial Homes for Sale
Search All Commercial Real Estate properties for sale in Daytona Beach, Florida! When looking to purchase commercial real estate in Daytona Beach, many investors are looking for properties capable of bringing in the highest revenue return as possible. In Daytona Beach, these are typically those with the highest number of tenants, including RV parks, apartment complexes, hotels, student housing, office buildings, and storage facilities. For more information on Commercial Real Estate for sale in Daytona Beach, schedule a showing, call us today, or send us an email.
Jump To: Daytona Beach Listings | Daytona Beach Info | Contact Us | Create An Account
Commercial Homes For Sale in Daytona Beach, FL
Daytona Beach, FL Commercial Homes Listings
December 1, 2023
Looking to buy a commercial home in Daytona Beach?
Let us do the heavy lifting & find the perfect commercial home for you. Just fill out the form below and we will be in touch shortly!
Rather speak with a local Daytona Beach real estate agent on the phone instead? Give us a call at
(386) 871-7697
for a free consultation. We look forward to helping you find the perfect commercial home!
Commercial Real Estate for Sale in Daytona Beach
Daytona Beach is located in Florida and is home to roughly 600,000 people, and is historically known for its beautiful beach. Apart from being called probably the best beach on the planet, this spot is additionally celebrated for its incredible climate, lovely occupants, and of course its motorsport occasions. When living in Daytona Beach, Florida, you will figure out how to have a great time yet unwind. Numerous individuals decide to visit it or move to Daytona Beach for many positive reasons.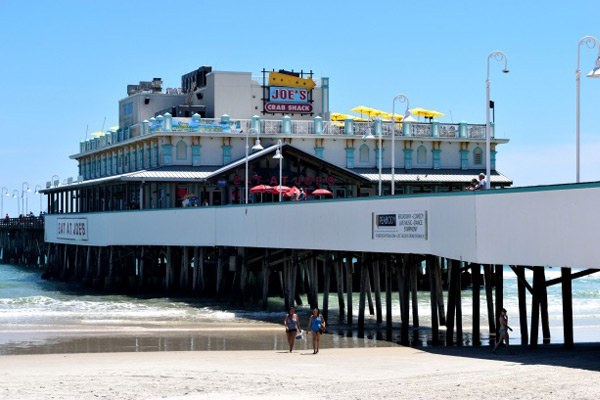 The Daytona Beach population swells and wanes like the ocean tide every winter; the region's beaches overflow with tourists looking to thaw after bearing the cold temperatures back home. Come summertime, and the city feels empty by comparison making this a popular spot for vacationers, snowbirds, and retirees. Many things that make Daytona Beach a popular place to live and make it an excellent place to live in the incredible fishing residents can be seen casting from a pier or the deck of a yacht. Golf is a popular activity in the area's affinity for the sport which is evident in its long history - Florida's golf goes back more than a century. Then there's the well-known city attraction, racing, home to the Daytona International Speedway. The area regularly welcomes NASCAR fans from around the country. Those who like to spend more of their time indoors can do so at the many attractions available, including museums, theaters, performing arts centers, antique markets, restaurants, malls that combine to make Daytona Beach one of Florida's most well-rounded metro areas.
Commercial real estate for sale in the city has various options available, including hotels, motels, shops, restaurants, and much more. Prices for commercial property can be found starting as low at $100K and as high as over $1 million. When considering all there is to do in Daytona Beach and the area where the attraction happens will help the buyer understand a wise commercial investment here in Daytona Beach, Florida.
Daytona Beach, Commercial, Real Estate Market
Commercial real estate in Daytona Beach offers an array of availability with many spaces move-in ready but many that will need to undergo renovations. Potential buyers of these commercial properties will find something suitable for their budget price, but with many affordable options, that's sure to be no problem. There's something for each need and wants when considering a commercial property, from small pizza shops with river views to large hotels with ocean views!
Commercial property listed just under or in the $100Ks found includes shops and storefronts ranging in size 500 square feet to 1,000 square feet. These stores and shops have 4 to 10 free parking spaces for their customers, generally located off busy intersections in more secluded areas such as small neighborhoods. These commercial properties are either detached and single standing or located in a plaza with 3 to 6 other businesses.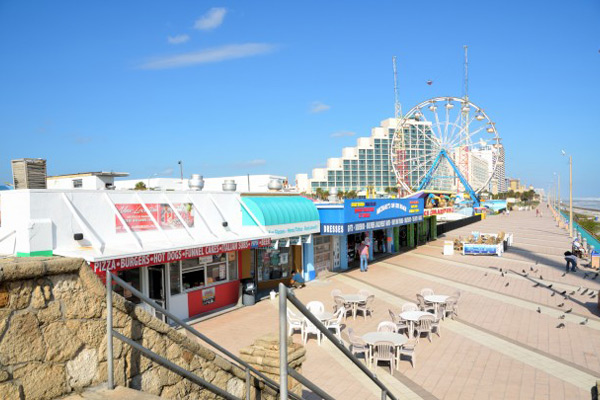 Real estate property in the $200K to $400Ks includes larger restaurants, small apartment blocks and complexes, and small hotels. These commercials tend to large when it comes to their lot sizes and square footage indoors than those listed in the low $100Ks. Commercial real estate listed in the $200K to $400Ks range generally was built in the late 1950s to 1990s.
Property listed in the $500K to $800Ks for sale includes garden centers, more significant commercial buildings, and grouped housing lots. Commercial building square footage available found start around 3,500 square feet to well over 5,000 with impressive square footage outdoors as well.
Commercial property listed in the millions found tend to be well-established businesses, campgrounds, or commercial buildings on land with many attractions year-round. Square food for interior found is well over 10,000 square feet and lots with acreage of land to work with.
No matter your price range, type of business, business plan, or location, you are looking to purchase your commercial property in Daytona Beach offers many prime locations and well-pointed prices for the property. Make your dream a reality in Daytona Beach today!
Surrounding Areas with Commercial Real Estate for sale
Florida is one of the best states in the United States in terms of visitors, there is significant tourism, and many people plan the golden years of their life around Florida. This generally implies that they have their eye on the state for a long time before they look to arrive forever. The opportunities are everywhere; that's why Daytona Beach and surrounding cities in Florida make for the perfect commercial real estate purchases!
Many investors appear to have a significant taste and want for commercial real estate in South Florida at present, regardless of whether that is retail land prospective buyers or worldwide purchasers. Florida is the place that is known for the best beaches, year-round sunshine, and real estate purchases. The city has always been a rising star among the world's best places for real estate commercial investments. The region has recently been formed in CBRE's top 10 metropolitan areas for retail assets.
Pine Hills
A popular area for commercial real estate is Pine Hills, located just west of Orlando, Florida, just 56 miles from Daytona Beach. The Pine Hills area was once a prime housing market that led to 4,000 foreclosure filings between 2008 and 2010. From 2010 to now, the Pine Hills neighborhood district redevelops new business and entrepreneurial opportunities. There are now major commercial real estates converting the area into a vibrant and bustling new town center.
Palm Beach County
Another booming market for commercial real estate includes Palm Beach County, just 200 miles from Daytona Beach, making it a short 3-hour drive. The retail real estate market is thriving with new construction in Palm Beach County. The market is strong and getting more robust with new inventory delivered in the Palm Beach County retail Market. The commercial real estate here is a healthy mix between new deliveries and leasing activity establishments. Typically a commercial space for sale can be found starting in the high $200Ks to $600Ks but can quickly surpass the million-dollar mark.
South Florida
South Florida ranks 7th for global commercial investments; this indication is a positive trend, sparking renewed interest in investing in the state's real estate. According to CBRE's report, South Florida makes close to $407 billion in the first half of each year worldwide commercial real estate investments.
Florida is to be believed one of the best commercial real estate markets, including the beautiful Daytona Beach itself. It's substantial for a long-term investment in a hoping market of beautiful South Florida. Daytona Beach and other surrounding towns and cities are an excellent choice and one of the most reasonable places to uncover fantastic opportunities!
Why buy Commercial Real Estate with Wyse Home Team Realty Real Estate
Wyse Home Team Realty strives to provide you with the fullest of honesty and integrity, along with determination and dedication. Our background in the real estate business has given us a high level of experience, leadership, and professionalism. Wyse Home Team Realty has a proven record of directly impacting their financial achievement and driving smooth transactions by applying refined administration, selling, and arrangement abilities. If you plan on buying or selling, contact Wyse Home Team Realty, your local expert for personalized customer care servicing our clients by delivering exceptional service and establishing lifelong relationships.
Jump back to Daytona Beach, FL Commercial Homes Listings >>>
View All Daytona Beach Homes for Sale By Feature