Daytona Beach, FL Townhomes for Sale
Search Townhome properties for sale in Daytona Beach, Florida! Townhome developments in Daytona Beach offer many residents a resort-like lifestyle with the many onsite activities included. Townhomes usually consist of beautiful communities featuring maximum amenities and minimal owner's association fees. The flooring plans available when choosing a townhome offer a perfect wide variety of options for potential homebuyers. For more information on Townhomes for sale in Daytona Beach, Florida, schedule a showing, call us today or send us an email.
Jump To: Daytona Beach Listings | Daytona Beach Info | Contact Us | Create An Account
Townhomes For Sale in Daytona Beach, FL
Daytona Beach, FL Townhomes Listings
October 3, 2023
Looking to buy a townhome in Daytona Beach?
Let us do the heavy lifting & find the perfect townhome for you. Just fill out the form below and we will be in touch shortly!
Rather speak with a local Daytona Beach real estate agent on the phone instead? Give us a call at
(386) 871-7697
for a free consultation. We look forward to helping you find the perfect townhome!
Townhomes for sale in Daytona Beach, Florida
The beautiful city of Daytona Beach officially became a city in 1870 when it was incorporated in 1876. Put on the map for its wide beach and smooth, hard-packed sands, Daytona Beach turned out to be broadly known in the mid-1900s for fast car testing, and later, car racing. By the 1920s, it was named the world's most well-known beach. As racing increasingly occurred, the sandy shores offered an approach to building up the famous racetrack known as the Daytona Speedway, which NASCAR founder William Bill France developed and built. The speedway has been facilitating the Daytona 500 since 1959 and draws in travelers and race lovers from everywhere looking for the thrill of the shaking grounds at the track.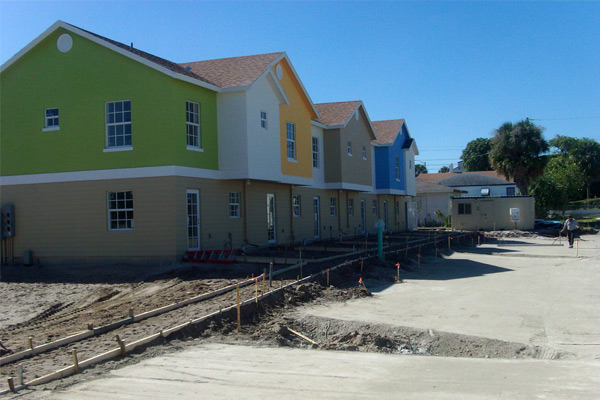 Today the hard-packed beach sand and the sparkling Atlantic Ocean attract millions of tourists annually. The Daytona Beach area boasts one of only a few beaches where driving and parking are allowed. It's also perfect for building sandcastles, bike riding, jogging, fishing, swimming, surfing, or just relaxing in the warm Florida sunshine.
Whether potential buyers are looking for something built or building their own, the townhome real estate in Florida is a thriving market! Townhomes in Daytona Beach are a very affordable option of living, and it still offers the space you would need for a more prominent family.
Townhomes for sale are perfect for first-time home buyers and empty-nesters alike, and townhouse living provides the ideal alternative to owning a single-family home but requires less upkeep than a single-family house. A 2 bedroom two bathroom townhome can be found starting at $100K whereas a three-bedroom, two-bedroom townhome begins at a high of $200Ks to $300K. These prices are determined by the age, style, location, and condition of the property and surrounding communities.
Daytona Beach, Florida Townhomes For Sale, Real Estate Market
Townhouses for sale in Daytona Beach have a median listing price of $212K. Many of these homes are considered hot homes meaning they will sell quickly for their high popularity. Popular neighborhoods include Pelican Bay, Neighborhood F, South Beach Street, Neighborhood T, Downtown Ormond Beach, Angola by the Bay, Neighborhood L, Neighborhood B, East Daytona, and Breakaway Trails, all located in Daytona Beach, Florida. Daytona Beach is home to approximately 61,097 people and 45,792 jobs, making it an ideal location for residents looking for work. Townhomes became a popular option by many buyers because they require less work. One of the most appealing advantages of townhouse living is not having to put as much maintenance towards the unit. Many townhome communities include onsite amenities, great value for your dollar, a friendly neighborhood feel, great locations, 24/7 security, making the residents feel secure and safe, and there's no worrying over exterior home improvements! A few desirable top-rated communities with townhomes available for purchase include The Palms At Daytona and Lakeside Village Housing homes.
The Palms at Daytona is located in beautiful Daytona Beach, situated near great entertainment that you will love and appreciate. Just minutes to Interstate 95 and arterial road 1, your daily commutes will be a breeze. The beautiful community is lushly landscaped and close to the beautiful sandy beaches, and all the excitement and fun Daytona offers! The townhomes here offer two-bedroom floor plans with a list of amenities sure to fit each of your needs. Many units will feature kitchens, equipped cable, central air and heating, and a lovely fenced-in back patio. Please spend some time with your neighborhoods and invite them out for a picnic at the public barbecue area or invite a family member down to stay in one of the available guest suites. The Palm at Daytona is a perfect choice for those looking for peace while still being local to many everyday amenities and attractions. Units are found at 1,202 square feet and have a typical listing price found of $230K. While residents are gone, they can trust their homes in good hands by the staff of Palms At Daytona.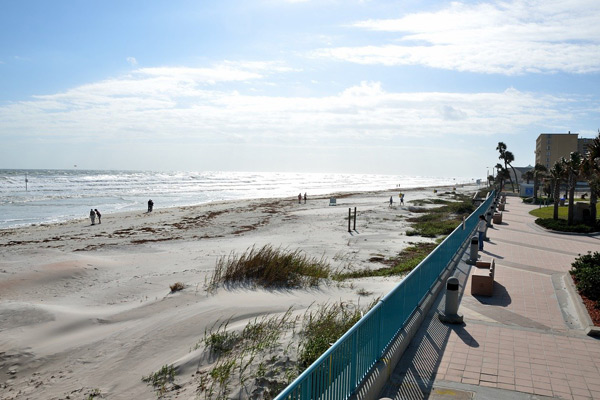 Townhouses at Lakeside Village Housing allow their residents to enjoy year-round access to one of the most coveted vacation destinations in the world. Lakeside Village homes are located right by beautiful beaches, an array of shopping, dining, recreation parks, and the world-renowned Speedweek, featuring the Daytona 500. Inside the homes, residents will find kitchens, a balcony or patio, new floors, and central air and heat. The community provides some impressive features accented by a gorgeous fountain pond and a beautiful walking trail. The area can safely be explored with many breathtaking sights and sounds. Onsite amenities include well-kept landscaping throughout the community, daily and overnight guest parking, 24/7 maintenance, picnic areas, a clubhouse, laundry facilities, and courtesy patrol to ensure residents' safety. A three-bedroom, two-and-a-half-bath with 1,806 square feet of living space can typically be found starting at $150K. The two-bedroom with one and a half bath and 1,298 square feet of living space is generally priced in the $200Ks.
The real estate in Daytona Beach is next to none for its popularity and attraction from people worldwide. Townhomes in Daytona Beach make a living or buying a vacation home here even more enticing with its affordable options, prime locations available, and accessibility to many amenities and every essential. There are plenty of reasons to call Daytona Beach home from its diverse population, delectable food, the many parks, attractions, and gorgeous weather to make it an extraordinary place to live.
Surrounding Areas with Townhomes for sale in Daytona Beach, Florida
The Townhome market in Florida is an overall attractive option for many prospective buyers because of the many available options. Daytona Beach is a well-rated area for purchasing a townhome, but many other cities draw high attraction from buyers, including New Smyrna Beach, Port Orange, Holly Hill, and Edgewater.
New Smyrna Beach, Florida
New Smyrna Beach city is located south of Daytona Beach, an exceptional surfing hub. Situated on Florida's central Atlantic coast, New Smyrna Beach is an enchanting beach town established in neighborhood culture, art, and an excellent, white sandy shoreline. Known for its waterfront design and character, New Smyrna Beach is an ideal spot for surfers and guests searching for a laidback area loaded up with activities. Bordered by a rich history, talented gifts, unique boutique shops, neighborhood dinners, and an ample amount of outdoor activity to fill up your days are only a few reasons that make New Smyrna Beach a great place to live. New Smyrna Beach has something for everyone, including the pet-friendly beaches you can drive right upon and a mix of amenities fit for the most simple to eclectic taste for every age. Townhomes in New Smyrna Beach are higher in cost than Daytona Beach because many homes have waterfront or ocean views. The units can be found having 2 to 4 bedroom floor plans with 2 to 3 and a half bathrooms ranging from 1,200 square feet to 3,100 square feet. A typical price found for a townhome in New Smyrna Beach is priced between $200K and $600K depending on the unit's size, location, and condition.
Port Orange, Florida
Furthermore, Port Orange is a vibrant and thriving city with 61,000 people and 150 years of rich history! The area boasts an award-winning municipal complex and well-planned residential development. Residents enjoy diverse opportunities for relaxation with the waterfront at their fingertips; other activities residents can enjoy include fishing, boating, golf, and other sports. The eastern side of Port Orange features the well-known River District, a refreshing place to be with a friendly community. Riverwalk Park includes a playground and splash park perfect for the kids; picnic facilities and pavilions make for a great spot for a larger gathering. Additional restrooms, a concession building, a portion of the boardwalk, event lawn, parking, and the southern part of the walking trail are also part of Riverwalk Park. Port Orange is a great city in which to live, work and play! Port Orange has an excellent real estate market when it comes to townhome living. The typical median listing pricing for a townhome in Port Orange can be found between the $100K to $250Ks. Living options as far as location available include waterfront homes, community homes, and highrise townhome units.
Holly Hill, Florida
Holly Hill city has a more quiet, laid back atmosphere than other cities near Daytona Beach, Florida. The area is incredibly affordable and is a wonderful choice for those looking to live in a more suburban community. A typical 2 to 3 bedroom unit can be found starting at $70Ks to $100Ks. The area of the city is perfect for retirees and snowbirds looking to escape the hustle and bustle of everyday life and relax in complete peacefulness.
Edgewater, Florida
Edgewater is a community nestled alongside the Indian River in beautiful Florida, directly across from the famous Mosquito Lagoon. It is a stunning Intracoastal waterfront community that offers all the appeal you would expect to find in a small town. The city has a population of over 23,319 and is home to various wildlife species such as an array of birds, fish, dolphins, and the ever so large manatees making it perfect for an outdoor nature lover's dream. Edgewater, Florida, has over 24 miles with 150 acres of parks. The city has a beautiful trail along a river great for walking, jogging, or biking winding along the Intracoastal Waterway. Its convenient east Florida location is ideally close to Daytona Beach International Airport, Orlando International Airport, and the many beautiful beaches. Residents have convenient access to highways, Interstate 95 and Interstate 4, including a few toll roads that give you almost direct access to all main corridor roads making for easy commutes for a simple come and go lifestyle. There are many positives to this lovely community, and you will find out quickly why Edgewater is a place to call home. Townhomes here are in the same price range located in the Port Orange area; prices typically are found starting in the low $100 to $200Ks for a two to the three-bedroom unit.
Why buy Townhomes with Wyse Home Team Realty Real Estate
Wyse Home Team Realty is committed to listening to our client's needs and utilizing our keen negotiating skills to ensure a successful transaction. Our team is full of esteemed realtors, highly regarded by our clients and professionals in the field. Wyse Home Team Realty provides professional service to assist with our clients' buying and selling needs, right from the beginning to the very end. We are committed, communicative, thorough, and detail-oriented and will be alongside our clients every step of the way.
Jump back to Daytona Beach, FL Townhomes Listings >>>
View All Daytona Beach Homes for Sale By Feature