Daytona Beach, FL Waterfront Homes for Sale
Search all waterfront home properties for sale in Daytona Beach, Florida! In Daytona Beach, Florida, the waterfront homes offer stunning homes in many perfect locations along Florida's beautiful lakes, rivers, and oceans shorelines. A lifestyle in Daytona Beach waterfront homes is a rewarding, active, and fun-filled lifestyle. Many residents are attracted to the houses to enjoy the peace and tranquility of the water and serene surroundings. For more information on waterfront homes for sale in Daytona Beach, schedule a showing, call us today, or send us an email.
Jump To: Daytona Beach Listings | Daytona Beach Info | Contact Us | Create An Account
Waterfront Homes For Sale in Daytona Beach, FL
Daytona Beach, FL Waterfront Homes Listings
October 3, 2023
Looking to buy a waterfront home in Daytona Beach?
Let us do the heavy lifting & find the perfect waterfront home for you. Just fill out the form below and we will be in touch shortly!
Rather speak with a local Daytona Beach real estate agent on the phone instead? Give us a call at
(386) 871-7697
for a free consultation. We look forward to helping you find the perfect waterfront home!
Waterfront Homes for Sale in Daytona Beach
Daytona Beach is located in Florida and lies northeast of Orlando, southeast of Jacksonville, and northwest of Miami, making it a prime location to many Floridas areas. The Daytona Beach metropolitan area is home to around 600,000 people and is historically known for its beach. The beach was once famous as the motorsports mecca for its hard-packed sands making the perfect road course for car races hosted for 50 years. Today the land is renowned for the Daytona International Speedway, where thousands flock yearly to see the famous NASCAR races, and miles of the beautiful sandy beach is still a world attraction!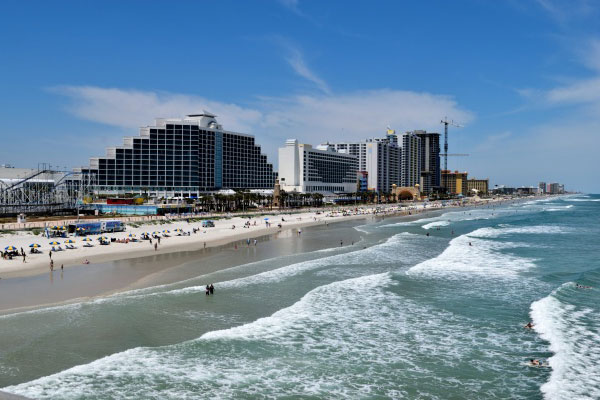 There is an incredible amount to do in Daytona Beach, and it's a good time for the entire family. Daytona Beach flaunts resorts, attractions, and the Daytona International Speedway and the Motorsports Hall of Fame. Daytona Beach swimming, surfing, and the opportunity to drive along the beach area next to none. Remember to visit the Daytona Beach Pier, a noteworthy attraction with nearby roller coasters, the Daytona Lagoon water park, and different excitement along the boardwalk. During the day into the night, catch some live music at the Daytona Beach Bandshell at the Oceanfront Park, the beautiful theater. The theatre is made of coquina shells overlooking the Atlantic Ocean and hosts up to 5,000 individuals. Just a quick dash south of Daytona Beach, climb the 175-foot tower to the highest point for breathtaking views of Ponce Inlet and Daytona Beach up each step.
Homes for sale in the city attract a wide diversity of people from all over the world, including many vacationers and snowbirds. Not only are residents in an ideal location for all of life's everyday needs, attractions, and amenities, but each waterfront home in Daytona is also uniquely different, with various floor plans to choose from. The real estate here ranges from a one-bedroom studio apartment to a stunning exclusive waterfront estate property. The wide range in between housing options leaves the market very affordable for those looking for something to purchase to have an escape during cold winter months or the retiree looking for settlement under the Florida sunshine along with the multitude of gorgeous waterways.
Daytona Beach, Waterfront Homes, Real Estate Market
The many offered waterfront homes in Daytona Beach are impressive, from the riverfront homes to the ever so famous Daytona Beach ocean shorelines themselves. No matter the view of the water, each home provides stunning sights that offer something uniquely different.
Residents looking for studio apartments will find many gorgeous one-bedroom, one-bathroom units with beautiful oceanfront views and 510 square feet of living space. Studio units for sale along Daytona Beach waterway are typically found starting in the $100Ks.
Lakefront townhomes are located just east of the city, providing exceptional views of Florida's lakes, offering some of the best sunsets over the more secluded area of homes. These homes start at 1,220 square feet for a two-bedroom and 1.5 bathrooms and are typically priced in the $120Ks.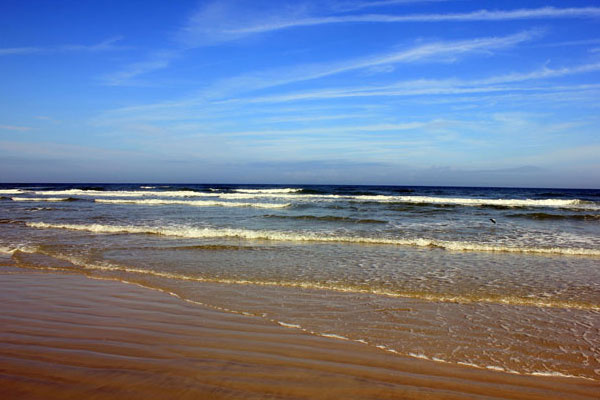 Many waterfront homes in more suburban settings can be located north of the city along some of Florida's river waterways. These homes are perfect for families as they offer spacious floor plans starting at 2,205 square feet for a three-bedroom, two-bathroom home. Single-family homes can typically be found in the high $300Ks, depending on the property's size, age, and location.
Those looking for a million-dollar view along Daytona Beach's marina sweeping out to the ocean can do so with the many impressive condominiums to choose from. A typical three-bedroom, the two-bathroom unit can be found starting at $540K with 1,911 square feet of living space. These housing unit prices run higher because of the popularity of those looking to purchase homes. The real estate market in Daytona Beach runs hot year-round for oceanfront condominiums.
Lastly, one-of-a-kind waterfront estate homes can be found along the beautiful Intracoastal waterway of Daytona Beach. These exclusive homes can have an impressive six-bedroom, 7.5 bathrooms with 10,150 square feet of living space. A typical estate home in Daytona Beach can be found at $3.5 million depending on its size, location, views, and property condition.
The many available homes are located throughout the city of Daytona, Florida. The option of real estate depends on the prospective buyer's taste of the lifestyle they are looking for, but Daytona Beach is sure to please and has something sure to fit every buyer!
Surrounding Areas with Waterfront Homes for Sale
The city of Daytona Beach has many neighboring towns and suburbs nearby, including Holly Hill, South Daytona, Port Orange, Ormond Beach, New Smyrna Beach, Edgewater, Deland, Deltona, Palm Coast, Sanford, Lake Mary, Oviedo, Mims, Winter Springs, and Longwood. All these areas are located within 40 miles of Daytona Beach and range in the exact prices of real estate of Daytona Beach considering its proximity to the city.
Other cities within driving distance to Daytona Beach include Jacksonville, Orlando, and Tampa. These cities offer an array of housing options between the four of them and all particular in their ways, each providing a different sense of lifestyle but all under the same Southern Florida Sunshine!
Orlando, Florida
Orlando, Florida, is located 51 miles from Daytona Beach and is home to the famous Walt Disney World attracting millions worldwide each year. Orland itself does not lie along the ocean but has many riverfront properties and resort-like housing options with a multitude of resort-like pools. Homes for sale in Orlando typically are higher due to its attraction from tourists; while many of the housing options available are rental units, home purchasing is still an option. A condominium for sale in Orlando typically starts in the high $200-300Ks, whereas a single-family home can be found starting in the high $800-900Ks and quickly surpassing the $1million mark.
Jacksonville, Florida
Jacksonville is the most popular city in Florida and is only 90 miles from Daytona beach. The area surrounds the Atlantic Ocean along the east side of the town and the well-kept beaches of Jacksonville. The city developed along both sides of the St. Johns River and the Trout River and is home to a notable collection of mid-century modern architecture; many of the earliest skyscrapers in the state were constructed dating to 1902. With high-rise structures taking up most of the real estate in Jacksonville, you'd think many homes found are typically apartment and condominium-style units. Think again, Jacksonville is home to some of the gorgeous waterfront homes in all of Florida. The extensive single-family estates found in Jacksonville can be found having 4 to over eight bedrooms with 3 to over eight bathrooms. Homes range in size, starting at 5,500 square feet to well over 10,000 square feet, and can be found priced at $4 million to over $10 million.
Melbourne, Florida
Melbourne is a vibrant Metropolis with Small-Town Charm. You will surely satisfy your love for the outdoors with beaches and hiking trails like the Viera Wetlands and Archie Carr National Wildlife Refuge. Improve your game with public and private golf courses like Baytree National Golf Links and Suntree Country Club. Enjoy world-class entertainment at the Maxwell C. King Center for the Performing Arts and experience art and music at the Eau Gallie Arts District's First Friday event.
Retirees flock to Melbourne, seeking warm weather and sun, leading to an older population. As a result, most homes in Melbourne, Florida, are occupied by retirees. Over 23% of residents are over 65, and 55-plus communities are near Palm Bay. In addition, the winter months see an influx of Canadian snowbirds, causing a noticeable increase in traffic and boosting the local retail economy. As a result, many homes in Melbourne are vacated or rented out during the summer while the snowbird returns north.
The cost of living is relatively low, especially the prices of homes in Melbourne, Florida. Spacious and comfortable homes in Melbourne, Florida, range from $220,000 to $315,000. Quiet, gated, and secure communities are all over the place, making it an ideal decision to invest in homes in Melbourne, Florida.
Florida is a perfect place to call home for many potential buyers, whether you're looking for an investment, retirement or a new place to call home!
Why Buy a Waterfront Home with Wyse Home Team Realty Real Estate
Working with Wyse Home Team Realty for purchasing your beautiful waterfront home is not only a good choice it's an excellent choice! A high-touch real estate team known for their extensive market knowledge and unmatched devotion to all their clients. Wyse Home Team Realty's success is based exclusively on positive referrals by our clients themselves. The real estate team has earned the respect of their clients by working tirelessly on their behalf and offering candid advice for successful purchasing.
Jump back to Daytona Beach, FL Waterfront Homes Listings >>>
View All Daytona Beach Homes for Sale By Feature