Palm Coast Neighborhood Map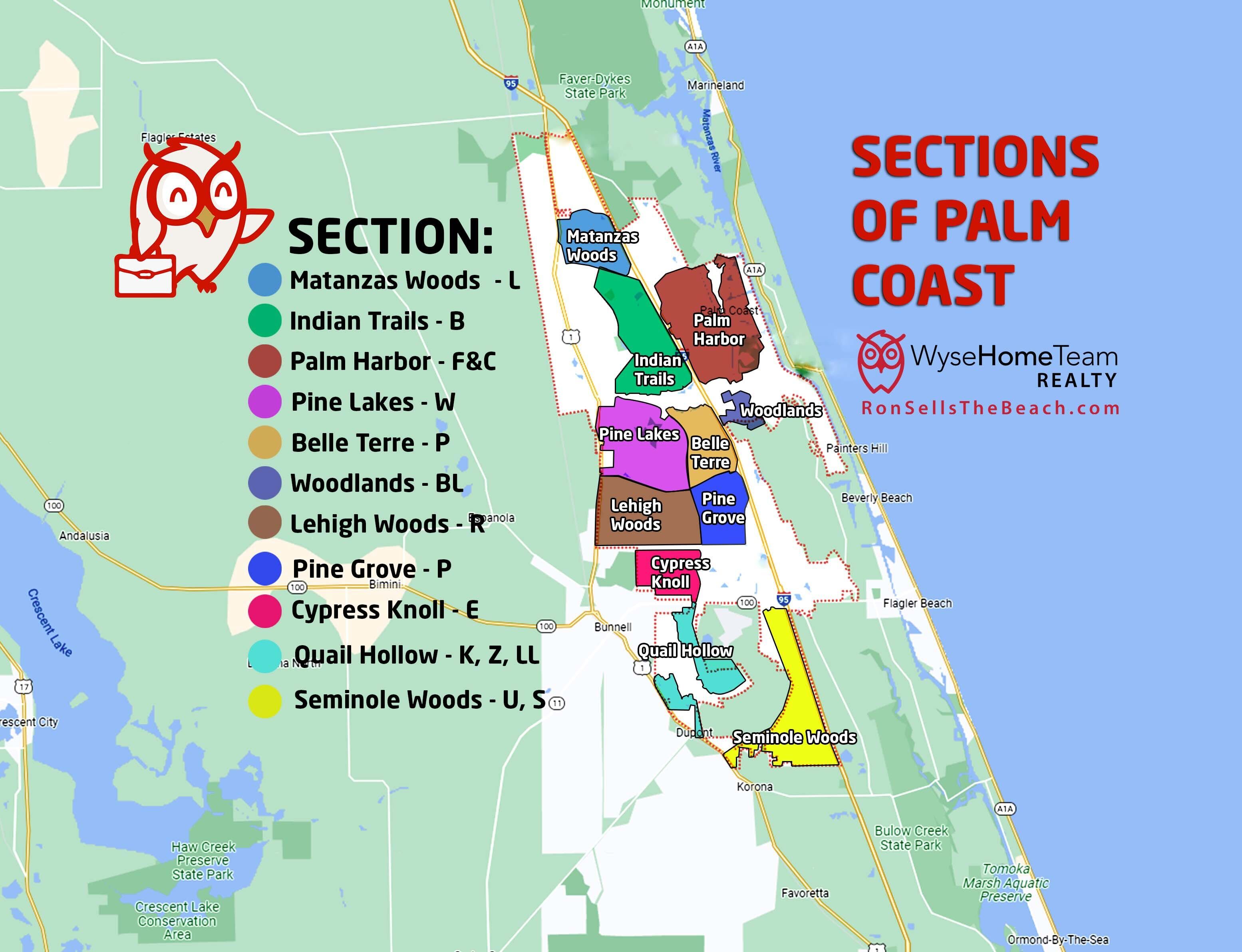 Palm Coast, Florida, is a beautiful place located on the east coast. Palm Coast is divided into 11 separate subdivisions, often referenced in sections by the alphabet letter that leads each street name in the subdivision. Each section has its own unique charm with an array of attractions to explore. From beaches and parks to restaurants and shopping areas, Palm Coast offers something enticing for everyone.
In addition to its natural beauty, Palm Coast also boasts many amenities, such as golf courses, community centers with activities for all ages, museums showcasing local artisans and history, and more. With easy access to US 1, A1A, and I-95 from most of the residential letter sections, travel is a breeze. So whether you're looking for a relaxing vacation destination or an exciting place to explore new things, Palm Coast Florida has it all!
Matanzas Woods

- L Section
Matanzas Woods is located on the Northernmost part of Palm Coast. One of the most exciting things about this place is it is the nearest one to entertainment and the oldest city in the country, St. Augustine. Living here is l ike getting the best out of both worlds. You can have fun and thrilling night outs with one of the best entertainment spots or go sightseeing and Marvel at the classic Spanish architecture in the historical place of St. Augustine. Matanzas woods is also close to the Palm Coast's A-rated schools!
Indian Trails

- B Section
Indian Trails is arguably the most popular neighborhood in Palm Coast. It is located near the I-95 route. Shoppers and foodies will love this location as it has many restaurants with a wide variety of cuisine and shopping places. Indian Trails is also home to a variety of churches, the Flagler County Public Library, and the Flagler Education Center. Nature lovers who often seek a peaceful and calm ambiance will love the lakeside, freshwater canal, and broad forest areas.
Palm Harbor

- F & C Sections
Palm Harbor features some of the most established community centers, parks, shopping districts, and a marina. One of its gems is the European Village complex and Linear park, where the beautiful St. Joe's Walkway is located. Walking on its wooden path overlooking the beautiful Intracoastal Waterway is a delightful experience. Most of its residential homes are bordered by canals that give boaters access to the Intracoastal Waterway. Ideal golf clubs throughout the area and Palm Harbor is home to the famous Palm Coast Yacht Club.
Pine Lakes

- W SECTION
Pine Lakes is very close to many beautiful beaches and swimming complexes. In this area, visitors can see the most beautiful and luxurious homes on Palm Coast. There are also resort-like condominiums and golf villas. Pine Lakes is where the famous and elegant Arlington and Hampton subdivisions are located. In addition, it is the home of the elegant Pine Lakes Country Club with a signature Arnold Palmer-designed championship golf course. Traveling will be a breeze with easy access points to the U.S. route and the westernmost part of Palm Coast Parkway. Pine Lakes is an excellent place for families and golf enthusiasts
Belle Terre

- P SECTION
The Belle Terre community is conveniently located near Palm Coast Parkway's Interstate 95 access ramp, making traveling more manageable. Sports enthusiasts, athletes, and fitness buffs will enjoy its location. It is home to many well-known sports complexes and fitness centers, like Swim and Racquet Club and the Frieda Zamba Center, which also has tennis courts, heated pools, and fitness programs. Like Pine Lake, Belle Terre has delicate and beautiful suburban neighborhoods, and it is near everything that residents could ever desire.
Woodlands

- BL SECTION
The Woodlands is a magnificent place and a hidden gem of Palm Coast. It boasts loads of amenities like golf courses and a marina. Woodlands adjoins a majestic 3,500-acre conservation area. Nature lovers would love the atmosphere and several views of the area. Family and friends of residents can quickly find a home here as it has easy access to I-95 and the Hammock Dunes toll Bridge. Residents will always enjoy the abundance of shops, restaurants, and Flagler County Beaches.
Lehigh Woods

- R SECTION
Lehigh Woods residents can travel to all points of Palm Coast seamlessly - thanks to the accessible highway ramps and centralized location. Lehigh Woods is located near several sought-after schools. Other jewels in the area are the Charter School's, Flagler Hospitals, and several Theaters. Residents can also enjoy outdoor activities such as children's playgrounds, basketball courts, and skate parks.
Pine Grove

- P SECTION
Pine Grove is another desirable location in Palm Coast. It is near the amenities of Pine Lakes and Belle Terre, with easy access to Highway 100, leading to the Atlantic Ocean. It has a very busy and vibrant Town Center in close proximity to theaters and highly-rated schools. The town center continues to expand and add more attractions, which attracts loads of visitors every month. In addition, this is a great place to socialize and be involved in community activities like festivals, holiday celebrations, and sports events.
Cypress Knoll

- E SECTION
Cypress Knoll, a popular place in Palm Coast, is close to the Flagler County Municipal Airport and Highway 100, which leads to Flagler Beach. However, residents don't need to travel far for shopping as there are many large shopping centers like Target and Publix.
Interestingly, Cypress Knoll is surrounded by native wetlands and lakes. Major Palm Coast destinations such as major schools, the Flagler Auditorium, and Town Center are easily accessed in this area.
Quail Hollow

- K, Z, & LL SECTIONS
Quail Hollow is a large beautiful community where hospitals, schools, and shopping centers are in nearby proximity. Visitors and residents will surely enjoy the peaceful ambiance and natural beauty of Quail Hollow. This area offers a great escape from the busy life of Palm Coast, Florida.
Seminole Woods

- U & S SECTIONS
Seminole Woods is very close to Flagler Beach. It also has quick access to I-95, shopping centers, and Flagler County Municipal Airport. Like Quail Hollow, it offers sprawling open spaces which provide a serene and calm ambiance. It is close to the beach, including easy access to Daytona Beach. The residents and visitors of the area can enjoy amenities like a playground, basketball court, and tennis court.
Tell us about your search!
Palm Coast Homes For Sale
November 29, 2023